We recently asked our community:
When did you go into labor/induction, and can you share a short story about the delivery?
Here's what the TwinStuff Community had to say: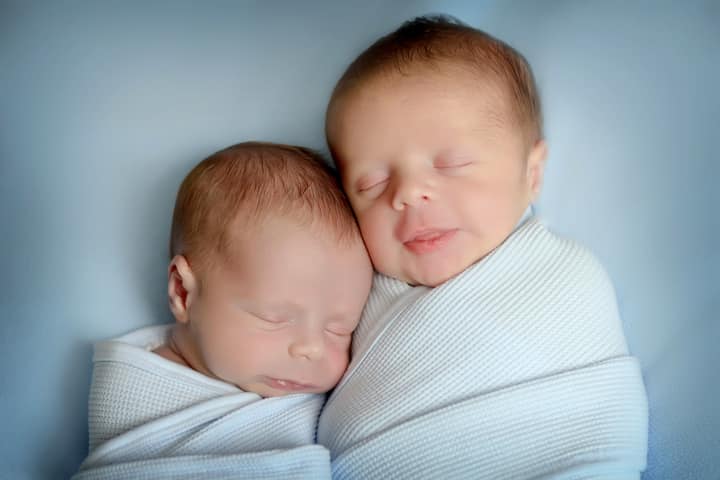 I cheated (unintentionally). Since A was breach & B was traverse (sideways), they didn't want to risk turning babies so I wasn't allowed to go into labor.

They asked I not travel more than 30 minutes away from the hospital in case I went into labor as that would be an 'emergency situation' (we lived 45 mins from the hospital). Never had a contraction.

At 38 wks, I showed up, they ran tests, got me prepped, paused at the beginning of the c-section for about 15 mins (found out later they were draining 4+ gallons of fluid out of me that was gathered in my chest & they had no idea how I was alive, let alone breathing & walked in myself.)

They delivered baby A (9lbs 11.5oz) & of course B (8lbs). No further complications, we were able to go home 3 days later.

- BH
At 37 weeks, My water broke at 9:45pm. No contractions or anything, but my midwife told us to head to the hospital.

They put us in a room, and the nurse came in to check how far dilated I was. She put her finger in, screamed, pulled it out, and shouted for an emergency c-section.

Baby A had her hand through my cervix and grabbed her finger when she was doing the check. She said in all her years of being a L&D nurse, that was the first time that had happened.

Baby A was born at 11:43pm at 6lbs 8oz and B was born at 11:45pm at 5lbs 14oz. Surgery and recovery were uneventful. My identical twin girls are now 14 yrs old. 

- BG
At 30 weeks I was diagnosed with preeclampsia and admitted to the hospital. I spent the next almost 4 weeks in the hospital. We had planned to do a c-section at 34 weeks exactly but my babies had a different plan.

At 33+5 I was cranky and moody. Every little thing anyone did just pissed me off.

That night I was having back pain. I was able to sleep through it so I didn't think much of it, figured the hospital bed was getting to me. Then about 7 the next morning my water broke.

Since it was so early we had a hard time getting our friends to wake up so they could take our other kids for my husband to rush up to the hospital.

But they woke up and my husband got there as they were wheeling our babies out of the OR. Which doing the c-section alone wasn't bad at all. I had everyone in there talking to me and taking pictures of my babies for me.

It really was a great experience all around. Girls were born at 33+6 weighing 6 pounds 14 oz and 5 pounds 5 oz. Both 18.5 inches long.

- TM
I was at 3cm/90% effaced for nearly 2 months!

I was convinced they were coming early. I had a scheduled induction on March 19th 2018 (38+1) I got my epidural before they broke my water.. once the pitocin started I was progressing quick then it slowed wayyyyy down at 6cm around 10am and didn't get to 10cm until early the next morning.

The girls arrived at 7:27am 5lb 13oz and 8:46am 6lb 12oz (1 hr and 19min apart! 38w2d no c-section needed! They just turned 9 months last Thursday and the smaller twin weighs one pound more! Good luck!

Twins are the best gift in the whole world!!!

- KF
I carried my girls to 40 weeks, Dr. gave them the weekend to come out if they didn't he would induse me.

Sure enough next day I went into labor at 10:00 a.m., I was in labor for over 10 hours, no epidural. 1:07 A.M Baby A came out at 5'12 ounces, 2:00 a.m. Baby B came out at 8 pounds 5 ounces.

Both girls were perfect, my twin darlings.

-SH
Planned c-section at 37 weeks. Baby A was always head down and baby B was always breach.

Also couldn't have a VBAC with twins. Healthy baby girls born a minute apart weighing 5lbs 4 oz and 4lbs 11oz.

They just turned one!

- LR
I was 36 weeks 3 days and had a checkup oct 2nd at 11 in the morning and my dr said I was dilated to 4cms- I wasn't having any contractions or cramps so she sent me home- one water broke at 3am, got to hospital at 4am, baby a was born at 4:26 and b 4:33 – nurse was putting in the Iv as A came out – very glad both babies were head down and came out easy but sad I couldn't get an epidural

- AA
I was 33 weeks 4 days and started having contractions on a Sunday. They stopped overnight and most of the next day.

Started up Monday afternoon again so my OB had me go in to get checked. I was 4cm so they admitted me to start magnesium drip and steroid injections to develop lungs. I was in the hospital Monday-Thursday and got to 5cm but labor stopped. The doctor felt comfortable sending me home to get a good nights rest in my own bed.

I was back the next day, Friday at 34+2 by noon with contractions starting that morning. I was 6cm so admitted again without trying to stop labor. Had the twins vaginally at 8:26 & 8:30 pm with the second being delivered breech.

The doctor reached in and grabbed his feet. 5lbs and 4lbs 5oz. We ended up only having 6 & 8 day NICU stays to more or less learn to eat. No oxygen or incubators needed. We are now almost 13 weeks old and doing amazing.

- LA
Scheduled c section at 39 weeks and 5 days. Both were transverse since about 22 weeks. Both babies were born big and healthy at 8.6 and 7.10 and went home with me on day 3. They are now almost 9

- JA
New Years Eve day and we had just bought a new house and moved in a few days prior. Had some things unpacked but my sister-in-law came over that morning to help my husband get things organized. We were also going to have a few people over to celebrate the new year.

I started having contractions. Thank goodness my SIL is a nurse. Took a shower, laid down hoping they would ease off as I was still a month from my due date.

They became about seven minutes apart. Called Dr. and she told me to come on in.

By the time we got to the hospital, they were three minutes apart. They let me labor for a while but I wasn't dilating at all even though I was having consistent terrible contractions.

I started having some complications so they went ahead and delivered them by c-section. I was 35+6, girls were just shy of 6 pounds each and in perfect health.

We called them our party crashers 😁 they will be 13 in just four days

- RD
I had an induction scheduled but didn't like the possible risks of delivery with Twin B being breached, so I asked for a C-section.

38 weeks and 2 days. I could have gone longer but my OB didn't want to risk ruining a great pregnancy.

Twin A was 6 lbs 1oz and B was 6 lbs 8 oz. Stayed in hospital for 3 days being twin A had jaundice.

- KB
Delivered mine at 37+3 via c-section as both my girls were breech after my NST showed I had preeclampsia.

I was admitted that night and had my c section the next morning. They were born 2 mins apart…6lbs 11oz and 18.5in, and 6lbs 1oz and 20in.

Baby B had respiratory problems right away and was taken to the NICU where she spent 13 long days.

- AP
 I had tons of Braxton Hicks through all my pregnancies and this was my 3/4 babies so I thought I was just having more.

Finally, after a few hours of them I told my husband who insisted we get checked out. I fought him for fear of feeling stupid. I was 28 weeks and when we got there after I apologized for probably being silly and wasting their time they said I was 5cm and 50%.

They tried mag sulfate to stop labor and everything they could but a few hours after I got there baby A's head came out during epidural. Baby b was transverse but they were able to grab her arm and pull her down to avoid having c section and vaginal.

Babies spent 2 & 3 mos in hospital. Both healthy 13 yr olds now.

- SA
I was admitted at 32 weeks exactly and put on magnesium for 2 days to stop my contractions.

I was taken off Wednesday morning at 6am and they were gonna discharge me the next morning. The boys had other plans.

Oct 31st,2018 at 7pm Baby A's water broke. Luckily my doctor had literally just left. Maybe 20 mins before.

I had an emergency c section, both were breech, and At 8:11pm I had both my boys. Brantley was 3lb 7oz and Hunter was 4lb and 3oz. I'm right there with you, I was a 3 for a long time.

-KB
Ok I will keep mine simple. Labor and delivery at 28 weeks. 8cms dilated when I got to the hospital. They were my first babies so I didn't know I was in labor; this was also because I suffered major sciatic nerve issues. Anyway, my waters didn't break, both waters had to be manually broken by the midwife.

- SW
I had surprise twins. One baby was delivered then I was given an injection to force delivery of the placenta and out came another baby.
The whole night/morning was a whirlwind, no one was prepared properly for one prem baby let alone 2. Either of them made any noise when they were born. 
There was no reason given for the prem birth either.
I think this post may be the same from the lady in a twin group, so apologies if I'm repeating myself.
- LM
Went for my 37 week check up mind you I was more than ready at this point having had on and off contractions for the past week.

During my NST I was having some strong ones and then doc checked I was dilated 5. Since baby A was breech my doc sent me to labor and delivery and came over after his clinic hours to do my c section.

My OB is the best he was not even on call. The twins were born 1 minute apart and were healthy as can be no NICU time.

Feeling very blessed good luck to all you moms hang in there the end gets rough but they are most certainly worth the wait!

- LM
Preterm labor at 27 weeks that thankfully was able to be stopped.

Had a c-section (one breach and one transverse) at 36 weeks 1 day because I had preeclampsia. Out of the hospital in 2 days.

They're now 9 and they're awesome.

- BF
33 and 3 went into full blown labor. Tried to stop it with magnesium and that worked for a few hours but not long enough to stop my boys from coming.

After they decided to deliver it was an hour from start to finish, vaginal delivery of both with a footling breech Baby B.

But we had a plan that we would attempt delivery so long as he tolerated it and he did. We had a 18 min window between the two and they were 4.8 and 4.15.

They had an 11 day NICU stay because, by law, they were too young to be released at birth.

They are healthy 10 yr olds now.

- CD
I was induced at 40 weeks. Once the pitocin kicked in, I was in labor for about four hours. Babies were born 6 minutes apart. I remember my doctor saying I was a cm dilated around 36 weeks. It really doesn't mean anything, unfortunately. Good luck!

- KN
I had my B/G twins at 38 weeks & 1 day! I had a scheduled c-section. Baby girl was born at 12PM weighing 6lbs 8oz and baby boy born at 12:02 PM weighing 7lbs 4oz. My c-section went flawlessly, I breastfed them in PACU & did skin to skin. Although I would have loved for them to pick their own birthday I got the outcome I had prayed for two happy healthy babies!

- LJ
I was at 35 weeks, baby A's water broke at 5:30 am on Christmas Day. Opened Santa presents with my daughter then went to the hospital.

We knew we were going to do a C section because I had one with my first and can't do a VBAC with twins. It took them forever to get my IV in but then they were born at 8:35 and 8:36 am. Baby A was 4 lbs 5 oz and baby B was 4 lbs 13 oz.

They stayed in the NICU for 10 days due to immature lungs.

- PD
 I was 36w 4d. I went to see the high risk doctor in the morning and my regular ob around 12. When my regular ob came in she asked if I was ready to meet my babies.

Baby A was butt down and Baby B was sideways. She said that my blood pressure was high and to head straight to the hospital.

I was so happy about that because he was 6lbs and she was 7lbs, I didn't have enough room to breathe! 6hrs and too many attempts later I was medicated and ready to be cut. 1hr after that I heard my baby boy and 2mins after that my baby girl.

My son still managed to be born butt first and my daughter slept through the whole thing. For the first 3 months my daughter looked angry that we disturbed her nap for this. I was really out of it, I didn't realize they were born and I was a mother until the next morning.

I vaguely remember hearing my doctor saying "Aww his little butt" and pretty much everyone begging my daughter to wake up (she was fine she just sleeps heavy).

- CS
Please add to the suggestions in the comments below and be sure to follow TwinStuff on Facebook.