Cost of Raising Twins: What You Can Expect
Elation, shock, or instant worry could have been the emotions you felt the minute the doctor said, "I am detecting two heartbeats. It's twins!" Twins are a special blessing, but we all know that one new member of the family can be very expensive, and now you are incurring double the expense.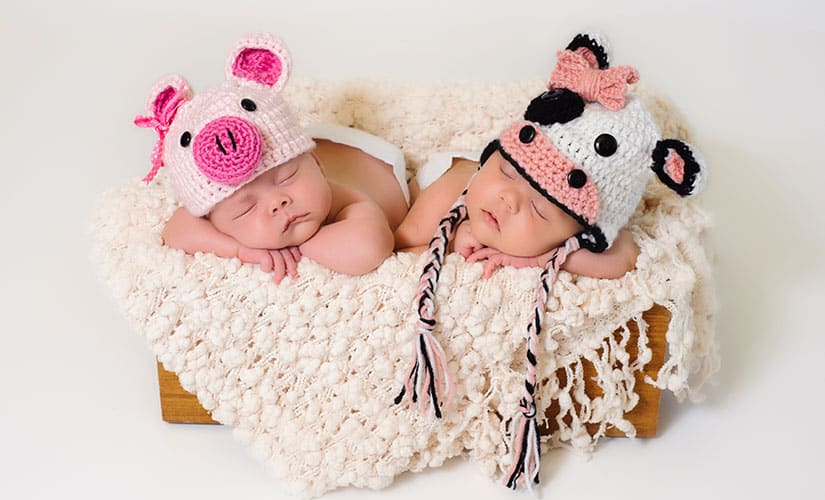 When reality is set in, your first thought was probably, "What is the cost of raising twins?" The USDA estimated that in 2012 an average income household could spend almost $300,000 raising twins from birth to the age of 17, and this does not include the cost of higher education.
Cost of Raising Twins: What's Involved?
Medical Care
Let's really begin at the beginning, prenatal care. If you are pregnant with twins, you will be visiting the doctor more frequently and may require a specialist. You will have more frequent ultrasounds, so it's important to understand what your insurance covers. Talk to your provider to get a better estimate of what your out-of-pocket expenses will be.
For a woman carrying twins, 37 weeks is considered a full-term pregnancy. The March of Dimes states that when you are pregnant with multiples, you and your babies are at higher risk of health complications, and you are six times more likely to have them prematurely. The more time the babies have to spend in the Neonatal Intensive Care Unit, or NICU, the higher the hospital bill.
Natural childbirth is less expensive that having a Cesarean Section. However, it is much more common to have twins by C-section. You may not have the option of natural childbirth if there are complications.
The hospital bill for the delivery of one child is expensive, and the price, undoubtedly, increases for two. CBS News reported that the cost of delivering twins was $105,000, nearly five times the cost of having a single birth. This includes the 27 weeks of prenatal care for you and medical expenses for the babies until they turn one.
At-Home Expenses for Twin Babies
There will be other upfront one-time costs such as cribs, strollers, and other gear that you need for the twins, such as baby monitors. There will also be ongoing costs like diapers and wipes. WebMD estimates that you will spend about $2,200 per month. It is okay to buy some of the items used if you can find them at a great discount.
How to Save in Year One
One-time Costs
Consider buying baby items built for two, for instance:
Ongoing Costs – Every Little Bit of Savings Will Help
There are diaper services that not only deliver diapers to your door on a regular basis, but they also give you a discount for having a subscription. A 20% discount can mean a lot of savings at the end of a year. Plus, the service of having the diapers delivered is
truly convenient!
Twins Child Care Costs
Child care is very expensive, especially multiplied by two. Some families already have children before their twins, so child care can rapidly skyrocket. Sometime a mother or father will quit their careers to become a stay-at-home parent. This is because child care can range from $55 per child per day up to $3,800 per month for both children according to testimonials on Twiniversity.
The quotes on Twiniversity are from 2014, so the rates that are discussed are current. The mothers and fathers, from different states and backgrounds, discuss options such as hiring a nanny, daycare and electing to stay home. Take a few minutes to glean some knowledge from mothers who have discovered the true cost of twin care. It may help you to make a decision on what's best for your family.
How to Save On Child Care
Forbes gives advice on how to save additional money for child care in their article Save On Child Care with These Six Tips. They provide information on how to take tax breaks, open flexible spending accounts, get company discounts, explore shared child care, search for non-profits that care for children, and if all else fails, how to bargain.
College Cost for Twins
Sending two to college at the same time will undoubtedly be costly. You have a couple of options:
Public Colleges:
Public colleges are funded through state taxes which make
them more affordable than private colleges. They tend to have larger student
populations and a larger variety of degree options, but the class sizes larger.
Because it is much more expensive to transfer to out-of–state public colleges,
many students stay in-state.
Private Colleges:
Private colleges are mainly funded through tuition,
endowments, and donations making them more expensive for the students that
attend. The class sizes are smaller due to the reduced number of students, and
the students tend to come from diverse locations, or many other states and
countries.
Community College:
If you send your children to community college for two years
for their basics, you may be able to save a significant amount of money because
classes are significantly less expensive. You will also save on living expenses
since your children can remain at home.
How Much Money Are We Talking About Per Child?
COLLEGEdata states that for the 2015-2016 school year private schools averaged $32,405; public in-state fees averaged $9,410, and public out-of-state averaged $23,893 per child. Community colleges cost approximately $3,347 per year. Remember, you must double these numbers.
529 College Savings Plan
To prepare for this financial burden, it is smart to start college funds from birth. A 529 College Savings Plan, otherwise called a "qualified tuition plan," is a way to save that is supported by the state you live in. This plan helps you set aside money for your children. There are two types that you can choose from based on your needs. Read more about each by clicking the link above.
Benefits of the 529 College Savings Plan
By using a 529 plan, you are not only saving for a later date, but you will also reap these benefits:
Earnings are not subject to federal tax when they are used for educational expenses like books, tuition, fees, room and board
Can be used for college or other post-secondary training
529 Plans offer great tax breaks
Your state may offer additional tax breaks for using the 529 Plan
You stay in control of the account
The plan does not have to be reported on your federal tax return
Easy to set up and easy to maintain
Everyone is eligible
Scholarships for Twins & Multiples
Another way to fund college is through scholarships. When the time is right, help your twins fill out scholarships specifically dedicated to twins.
Every university in the country does offer some small family-based grant of anywhere from $500-$2000 in tuition fee reductions if a family has more than one member attending a school at the same time. There are restrictions and conditions that must be met so be sure to contact the school's financial aid office for more information.
SCHOOLS WITH TWIN/TRIPLET SCHOLARSHIP PROGRAMS
Carl Albert State College (Oklahoma)
Paula Nieto Twin Scholarship – Established by Paula's twin, Penny Nieto Gooch, as well as family and friends, this cash scholarship is awarded to twins.
George Washington University (Washington, D.C. – web site)
Offers a deal for siblings (both twins and not). One sibling pays full tuition, and second gets a 50% discount. Tuition in 2002-03 was almost $28,000.
Lake Erie College, Painesville, OH 44077
Contact: Director of Admissions (216) 942-3872. A Four year college. Tuition: ($16,370 in 2002-03). Only pairs of twins (either men or women) may apply. Scholarship is for 4 years. Full tuition is paid by one twin only and the twin who pays alternates each year so the burden does not fall on one twin only.
Morris Brown College (web site) — Atlanta, GA
Provide some financial relief for parents with twins who are enrolled full-time at Morris Brown College by waiving full tuition for one of the twins. Each twin must maintain a 2.0 GPA at the end of each academic year. Tuition for 2002-03 was $4184 per semester.
Northeastern Oklahoma A & M College (web site) — 200 I Street NE, Miami, OK 74354
Twins/Triplets must attend NEO together. Provides $440 for each twin/triplet each fall and spring for room expenses.
Randolph-Macon Women's College, Lynchburg, VA
Twin sisters who enroll as full-time degree candidates will be eligible to receive a grant equal to 15% of the annual charge for tuition (7 per year – award was $2835 in 2002)
Sterling College, PO Box 98, Sterling, KS 67579-0098 (web site)
Four year college. Christian liberal arts institution affiliated with the Presbyterian Church. Tuition: $12,750 in 2002-03. Each twin receives an award equal to one-half the tuition for the school year. Each twin is required to complete the Free Application for Federal Student Aid. If the family demonstrates additional financial need, the college attempts to meet that need with the following awards and scholarships: Twin award, followed by the Pell Grant, Kansas Tuition Grant (for Kansas residents only), outside scholarships and finally, Sterling College academic and/or activity awards, loans and work, up to the demonstrated financial need.
West Chester University of Pennsylvania — Bonnie Evans Feinberg Scholarship
To an incoming first year student from a middle-class, multiple – sibling family who is a solid "b" or better student. Renewable with maintenance of a 3.0 gpa (awarded to one student only per year).
Wilson College (web site) — 1015 Philadelphia Avenue, Chambersburg, PA 17201
A women's-only liberal arts college that developed a twins scholarship in 2006, the annual twins/triplets scholarship pays 45% of each multiple's annual tuition. Contact Linda Britten, Wilson's Associate Dean of Financial Aid for more information at 1-800-421-8402
Are There Other Helpful Ways to Plan and Reduce The Cost of Having Twins?
Read About It
Dr. Le-Bucklin, a pediatrician, and mother of twins, wrote this easy-to-read and well-researched book for parents and soon-to-be parents of multiples. She offers her perspective and practical advice to guide you through each phase of raising twins from pregnancy on. She educates you about the most helpful resources available and offers insight on what it's like to be a parent of multiples, through her own stories, which will inspire you.
Twins 101: 50 Must-Have Tips for Pregnancy through
Early Childhood From Doctor M.O.M.
Cost of Raising Children Calculator
Determine what it will cost your family to have a raise twins using the following calculator:
http://www.cnpp.usda.gov/tools/CRC_Calculator/default.aspx
Final Thoughts
Though your twins might be looking like little money mongers right now, there are many ways to plan and save so that you can continue to lead a financially comfortable and stable lifestyle. Keep these tips in mind:
Remember to start being money savvy from the beginning. Buy products built for two instead of two of everything. Remember that these items will only be used for a short period of time, so even buying some products used is worth the savings.
Accept budgeting advice from others who have walked this path before you or hire a financial advisor
Create a family budget
Explore all your options for child care
Partake in reading and research about raising twins through books and reputable websites
Start college funds with a 529 Plan
By staying educated on what's available to you and your double-sized family, you will find that there are ways to reduce the cost of raising twins. You can relax and once again feel like the lucky parents of twins.