Order Your Twin Onesies Now
Use Code TSPROMO20 at Checkout To Receive Additional 20% OFF when you purchase two or more sets of products.
Did We Just Become Best Friends? Yep!
Click here to buy in Amazon Store 0-3 months set
Click here to buy in Amazon Store 3-6 months set
Born First, Show Off!
Click here to buy in Amazon Store 0-3 months set
Click here to buy in Amazon Store 3-6 months set
Sometimes when you wish for a miracle – you get two
Click here to buy in Amazon Store 0-3 months set
Click here to buy in Amazon Store 3-6 months set
Our Onesies Product Benefits and Sizes
CPSIA Certifications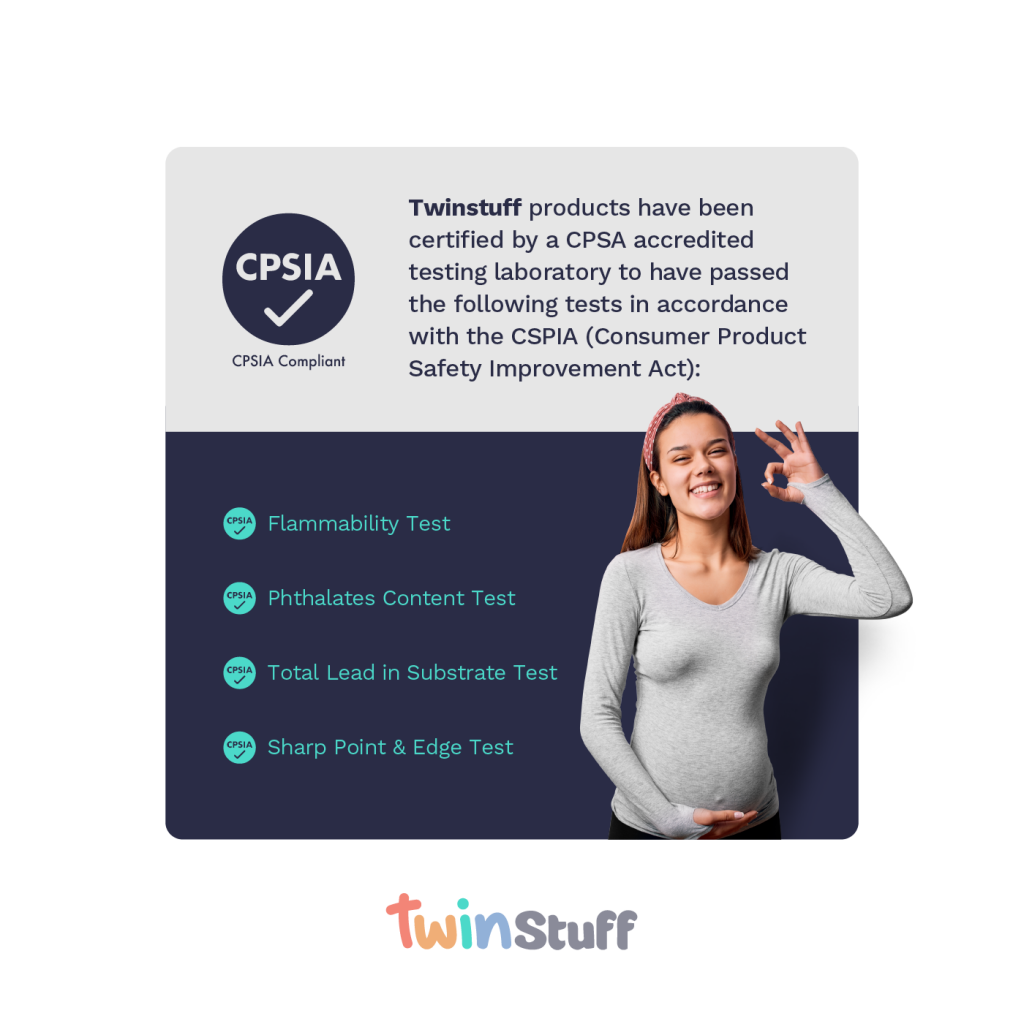 Best of Our Twin Onesies
Fun twin themes – perfect for bringing the twins home from hospital, sharing the cuteness with friends and family, and newborn twin photos for keepsakes.
Unisex designs – perfect for twin boy and girl outfits.
Our twin onesies are made from a 100% cotton rib for maximum breathability and comfort.
Safe for you and your twins – cotton is minimally processed with only safe and gentle dyes used. No harsh chemicals or dangerous flame retardants are added.
Designs are screen printed to ensure durability.
Snaps are nickel-free and reinforced to remain strong use after use.
Envelope collar easily and comfortably accommodates babies' heads.
Machine washable – onesies will remain smooth and soft wash after wash due to the high quality fabric.
Benefits of TwinStuff Twin Onesies
A baby's skin is more sensitive and vulnerable to infections compared to that of an adult. The fabric used in our onesies for twins is minimally processed and is never treated with harsh chemicals.
We use nickel-free snaps, made stronger with binding for maximum comfort and support. Nickel, commonly used for buttons and snaps, is among the top known allergens for babies – this is why you'll never find nickel in our products.
Leg snaps and snap closures in the expandable neckline area make dressing and diaper changes comfortable, fast and stress-free.
Even after excessive washing, our bodysuits retain their softness and smoothness. The color and designs do not fade and hems remain strong.
TwinStuff newborn twin outfits are a must-have, offering adorability with affordability while maintaining a premium feel and comfort for your twins.
Delightful yet simple – functionality matters which is why we focus on getting the basics right. No bells and whistles or excessive flare.
Aside from drawing more attention to the twins, our newborn twin clothing is perfect for keepsake photos. You can share the love and cuteness with your family, friends, and on social media.
Designs are gender-neutral. You can confidently choose and buy designs appropriate for both girls and boys. The perfect gift for twin babies or parents expecting twins!
How to Care for Bodysuits
In order to maintain the appearance and take proper care of your twins' onesies, they should be washed with cold water in a washing machine and tumble dried at low heat. Remember to use a gentle detergent and fabric conditioner that are safe to use for your babies. There is no need to iron them.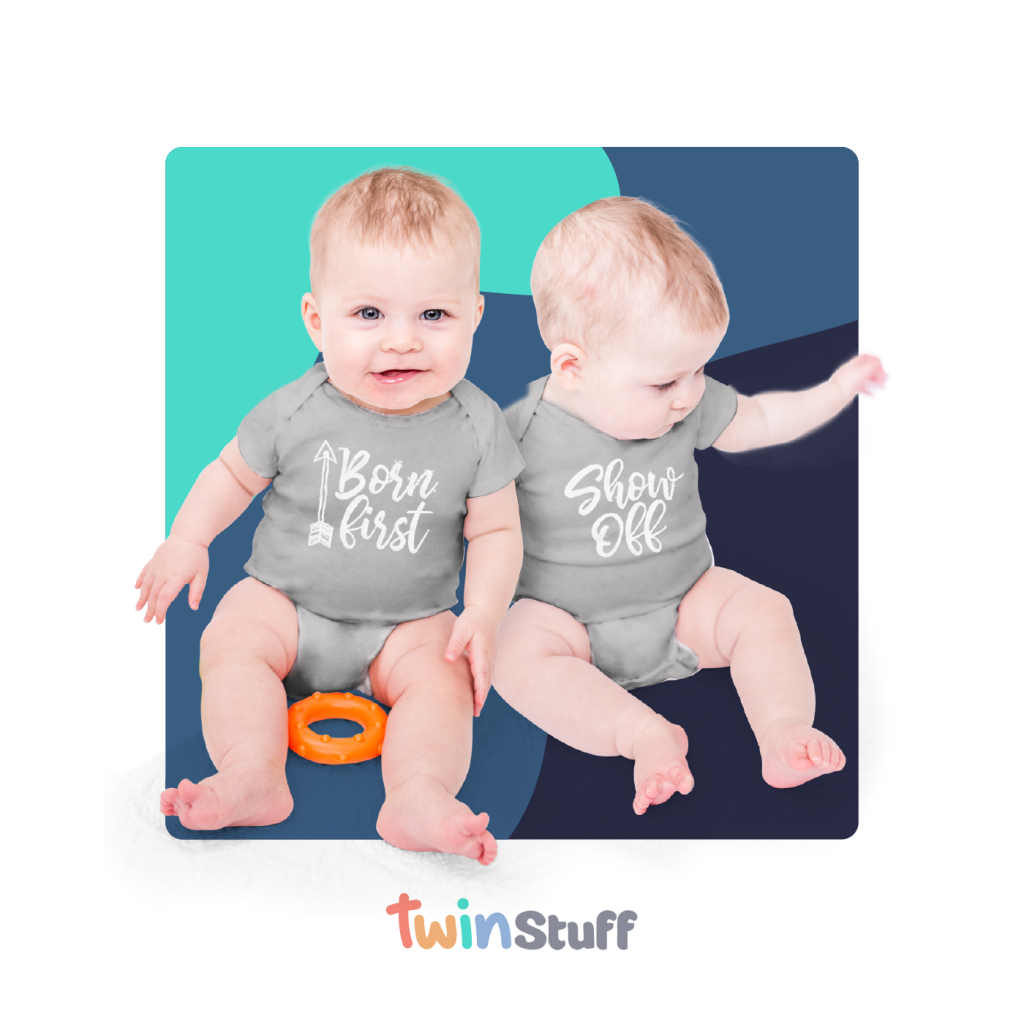 TwinStuff: The Brand
Our brand represents twin parenthood lifestyle. TwinStuff seeks to support and empower parents as they go through the wonderful journey of twin pregnancy and parenthood. We strive to bring together a community that has a common goal of educating and encouraging parents expecting twins or have had twins. We take pride in our high-quality, innovative, and creative products that both parents and babies will definitely love.
TwinStuff is committed to best practice social responsibility and we are very particular about our partners.
We only work with companies and factories wherein:
– Employment is freely chosen and not forced upon the people in the manufacturing facilities.
– Fair employment practices have been implemented without discrimination or inhumane treatment of employees.
– Employees are paid fair living wages.
– There is no demand for excessive working hours or overtime without pay.
– Children are never employed.
– The working environment is safe, well-maintained, and hygienic.
– There is freedom of association and employees have the right to collective bargaining.
TwinStuff supports sustainable production processes and ensures that every employees' human rights are respected so that our partners can set an example for other manufacturers. The production of these twin onesies is no exception.