Tandem breastfeeding twins is a skill that every twin mom is eager to master, yet there is a long way to go until she can call herself a pro. Being able to lie back and watch your babies latch with ease is the goal, but you might have to sweat a little bit until this becomes possible.
But don't worry, because eventually, you will hack tandem breastfeeding twins. Every twin mom does at some point, whether it's within the first weeks, months, or even after a year of unsuccessful tandem feeding attempts.
So what can you do to master the tandem breastfeeding twins skill faster? You can learn from already experienced moms of two who have walked the rocky road of feeding twins at the same time. We have compiled the best tips & tricks from twin moms and expert doctors and have shared them with you in this guide. Good luck with your tandem nursing.
1. Tandem Breastfeeding Twins is All About Routine
The number one priority you should focus on once your babies enter this world is synchronizing their routines. It might be quite hard at first because one twin wants to eat while the other one wants to sleep, etc. But this is where you have to persevere, because the results are gratifying, especially when it comes to tandem feeding.
What this means is treating your babies like one but with double the effort. In return, you are more likely to sneak in a little "me time" in between your mum's duties and even have a much-needed nap. Once you get your babies used to doing everything together they will feel more comfortable latching at the same time, even if one of them is a rebel.
This rule applies to pretty much every aspect of twin parenting. You can use tandem nursing when putting your angels to sleep, bathing them, and later on potty training them. The most enjoyable aspect of tandem nursing is dressing your twins in cute matching onesies. Just imagine your sweethearts wearing the "Did We Just Become Best Friends – Yep" onesies, highlighting their adorableness.

2. Speak with a Lactation Consultant
The best thing about giving birth in a hospital is that you are eligible for free lactation consultations, which will help you step confidently into the world of tandem breastfeeding twins. While homebirth is gaining more and more advocates these days, it is actually recommended to opt for hospital delivery when pregnant with twins, because the chances of complications are increased. Plus, you will have to arrange your own lactation consultations if you are giving birth at home, and that's definitely something you don't want to be missing out on.
Many twin moms share that the advice they got from their lactation consultant was of immense help. Exhaust your resources and get the help you need to find the best tandem feeding fit for you from a professional.
3. Get a Feeding Pillow for Twins
The one thing that moms of two say they couldn't have made it without is a feeding pillow for twins. Choose the comfiest one for you and lay it out with the rest of your tandem breastfeeding gear around your tandem nursing spot, so that you have everything handy.
We and many twin moms around the world recommend the My Brest Friend Supportive Nursing Pillow for Twins. It is specifically designed to accommodate two babies at once and offers the right support for both your tiny twins and yourself. A common issue with tandem feeding is back pain caused by leaning forward when your twins are latching. If you still feel like your back is being strained even when using the My Best Friend Pillow, you can add extra blankets or pillows to ease your back.
How the whole process will work out for you is a mystery and only trial and error will tell. Some women find that they are successful at tandem breastfeeding from the moment they enter their home after only a few lactation consultations. Others need more time to adjust and figure out which tandem feeding position suits them best: the football hold, the front cross, or the upright latch? The My Best Friend Pillow allows you to do all three of them.
One mom of two said that she used the My Brest Friend Twin Pillow but she still rolled up receiving blankets around them to help her prop them up a little more when they were small. Another one started with feeding her babies one at a time until they got used to latching and then switched to tandem breastfeeding, which saved her time and her sanity.
Other essential items to support your tandem nursing include extra pillows and blankets, water for mommy, and bibs for your twins. Babies aged between 0-6 months are in most need of a bib because of the excessive drooling. The Drinking Buddies Twin Bibs are our top choice for a comfortable and fun tandem breastfeeding.
4. What is the Best Breast Pump for Twins and Do You Need One?
As we mentioned, it is quite common for moms of two to not be able to tandem feed their babies from the start. In that case, you shouldn't let your frustration jeopardize the nutritional needs of your twins.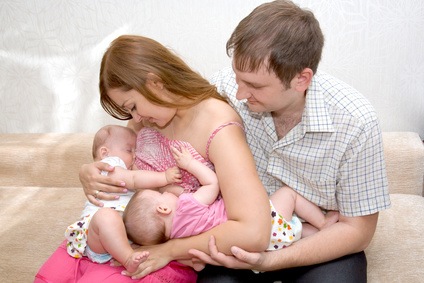 This means that you might have to figure out an alternative that incorporates bottled milk, either pumped breastmilk or a substitute. For example, you can breastfeed one of the twins and simultaneously feed the other one with a bottle at one of the feeds, and then swap for the next one. This way your babies are at least being breastfed during half of their feeds.
Of course, pumped breastmilk is much better than a store-bought substitute. If you have enough milk supply you should invest in a breast pump to make sure you're stocked up on that natural breast milk.
We recommend you the award-winning Haakaa Manual Breast Pump. Doctors and celebrity moms vouch for this silicone manual breast pump and especially highlight its ease of use. The Haakaa Manual Breast Pump is much more simplified than any electric breast pump and uses the power of natural suction. It's also super easy to clean – it only requires soaking in boiling water for 2 mins and voila! You can also take it anywhere with you due to its compactability and lightweightness.
5. Make Sure Your Babies Are Getting Enough Milk Supply
Figuring out how much breast milk your babies have drank can be quite difficult. But it's also really important to stay on top of the nutritional recommendations to ensure your babies are healthy. Moreover, twins tend to be born preterm, which means that they weigh less and require extra breast milk.
To find out how much milk supply your babies are taking, monitor their weight before and after each breastfeeding, as well as, through regular pediatrician's check-ups. Wet diapers are also a sign of sufficient milk supply. You should be changing around 8-10 wet diapers per day for each of your twins.
The health and development of your babies should be your number one priority!
Did Someone Say Tandem Breastfeeding Twins?
You're probably getting the chills just hearing this term. Tandem breastfeeding twins is the goal of every twin mom, but getting there is not as easy as it might seem. In this article, we give you the top 5 tips from moms and doctors to help you master the tandem nursing skill.
Some things you might want to consider include getting a feeding pillow for twins, investing in a breast pump to ensure a sufficient milk supply for each baby, and speaking with a lactation consultant. We wish you the best of luck, twin mom!