You're 30 weeks pregnant with twins! That means next week you're down to the last quarter! That's huge.
Whether you think this has taken ages, or you can barely remember the last few weeks because they've gone past far too far, you've done incredibly well.
Now we're into the last few weeks, everything's going to come even faster, so it's vital that you get everything ready and waiting.
You've probably put on close to 30 or 40 pounds by now, so your body is definitely feeling it. Here's what you can expect over the coming weeks.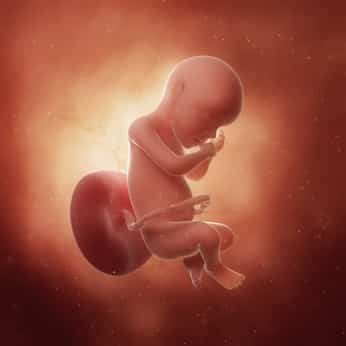 A single fetus at 30 weeks
See 29 weeks pregnant with twins
See 31 weeks pregnant with twins
Your Twin Babies at 30 Weeks Pregnant
A little bit longer, a whole lot heavier. That's how your babies are doing this week. They might have grown half an inch or so, to about 15.5 inches, but they've put on near half a pound, weighing somewhere near 3lbs each now.
That means each twin is around the size of a zucchini.
As a soon to be parent of twins, you're probably aware of the fact that preterm labor is a thing with your little ones. On the upside, you're now far enough along that if they are born early, they have a really good chance of survival, so you can relax a whole lot more.
Inside their bodies, their brains are wrinkling up, as their brains develop and get ready for the outside world. Not only that, but their digestive systems are almost ready to go, waiting for that day when they finally see the outside world!
Twin Pregnancy Symptoms at 30 Weeks
Sleeping problems: There's a lot on your mind, which would make it hard enough to sleep anyway. But with the strain on your body and the fact that you're pumped full of hormones, it's going to be even harder. Just do what you can, get comfortable, and relax as much as possible.
Overall aches and pains: You're getting bigger, and the strain on your body is that much higher. Plus, you're a long way in, and your body hasn't had a chance to properly rest in weeks. Get whatever rest and recuperation you can, and try and treat yourself.
Lack of breath: Your twins are getting ever bigger, which leaves you with so much less space to breath deep and expand those lungs. Pretty soon, your babies should move closer to your pelvis, which will give you room to breathe again.
Heartburn: Your digestive system doesn't know what's hit it these past few months, and it's not over yet. If one food in particular keeps triggering heartburn, avoid it as much as you can. Food diaries can really help here
Are you prepared for what's to come? Check out our twins shopping checklist.
30 Weeks Ultrasound Twins
If everything's been fine so far, your doctor might rule that you don't need a scan yet, but as you're carrying twins, it's far more likely that you're going to have a 30 weeks scan.
You might even have a biophysical exam done, which is an ultrasound as well as a non-stress test (NST,) or fetal heart rate monitoring.
If you've been told you're having one of these, don't worry. Like the name suggests, it's not stressful, completely non-invasive, and only takes a little while. It's just sensors put on the outside of your belly to monitor your babies heart rates and make sure everything is going on great in there.
Things To Do this week for a Healthy Pregnancy
Carefully monitor your weight. If your weight suddenly increases by a huge margin, or you get a significant jump in weight that you aren't expecting, tell your doctor immediately. It could be a sign of pre-eclampsia, which can develop into a major problem.
Do a hospital trial run, to see how long it takes you to get there. If you can, we recommend doing it in heavy traffic, and coming home when the traffic is a little clearer, so you know the worst case scenario. Trust us, it's a huge weight off your mind when you know you can get to the hospital with no issues at all.
Worth Buying Now
Disclosure: These links are affiliate links meaning we earn a small commission for any qualifying purchases.
If you don't already, get yourself some compression socks. Not only can they help you now with foot/ankle swelling and varicose veins, they can help maintain the blood flow around your legs during the time you will be bedridden.
Similarly to compression socks, it's worth getting a postpartum girdle. We did a whole post on these here. This is our favorite.
Why not set up your Baby Registry?
[thrive_text_block color="blue" headline="'Must Haves' in Trimester 3″]We asked the TwinStuff Community what their Must Have products were during the Third Trimester:
[/thrive_text_block]
Are You 30 Weeks Pregnant with Twins?
You're carrying twins. That means you're a lot more likely to have a premature birth. That's why we keep saying that you need to be ready, because you never know what might happen, and when. Learn more about twin pregnancy on this page.
If you're worried at all, or you have any concerns, always talk to your doctor, but if you've got any questions and you need a quick answer, drop us a comment. We'll do what we can to help! How do you feel at 30 weeks pregnant with twins?