We, at TwinStuff, love helping friends and family members of twin families as they shop for the best baby shower gifts for twins. One of the things we enjoy doing is to look for unique and adorable baby shower gifts for twins. We asked experienced parents of twins to weigh in on some of their favorite items, providing you with additional insight on gifts to purchase for the up and coming twin baby shower. We removed the guess work on what you should buy for the expanding family. Here are 14 of the best baby shower gift ideas for 2021.
Best Baby Shower Gifts for Twins Ideas
If the expecting parents are car lovers, they'll love watching their twins roll around the home in these walkers. Having a compact design, walkers are great to keep the little ones roaming around the house. The pink and blue car walkers are adjustable, to grow with the active twins.
One thing that parents of multiples wished for was a tandem baby carrier. TwinGo listened and created a comfortable way to carry twins. Babies can rest with ease under a cozy hood made of 100% cotton. It cradles twins' heads, along with shading the babies from the weather.
Parents enjoy taking their twins outside, but not with pesky bugs flying around. The net fits perfectly around a regular pack and play, keeping twins safe from mosquitos and other insects. If the parents enjoy relaxing outside, they will be pleased to receive this as a gift at the twin baby shower.
If parents are worried about properly swaddling their newborn twin babies, they will definitely want to receive this gift at the twin baby shower. These swaddle blankets fit newborns between seven to 14lbs. and securely fasten with Velcro. Gender neutral colors make for phenomenal new baby gift ideas.
Baby Gifts Ideas: Twin Clothing
You will enjoy seeing the newborn twins in pictures posted online, as they rest comfortably on this twin monthly milestone baby blanket. Gifts that track twin's growth every month for the first year make for great newborn gift ideas.
Made of 100% cotton, soft bibs are gentle against baby's skin. Cute and clever sayings will bring smiles for all to see. Parents will enjoy taking pictures of their adorable twins wearing the bibs they received from you.
To coordinate with sweet cotton bibs, twin onesies make for one of the best baby gifts to give expectant parents. Breathable, 100% cotton, material is buttery soft for the twin babies. Parents will appreciate the fact that the onesies have a snap closure, allowing parents to quickly change their twin babies.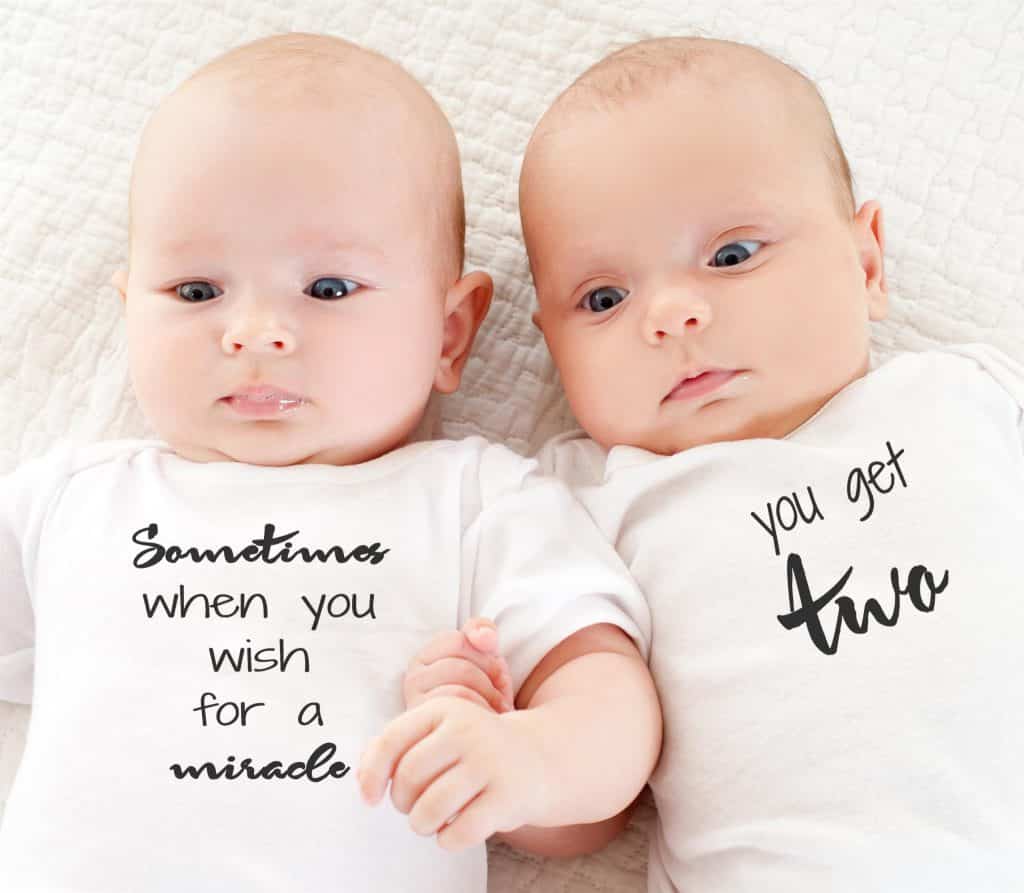 Whether the expecting mom plans on breastfeeding or bottle feeding, baby bottles are essential for the growing twins. Comotomo makes bottles that resemble the breast, making it easy for babies to switch between breastfeeding to bottle feeding. The bottles can be washed by hand or placed on to the top rack of the dishwasher.
Non-toxic nail polish is a great way of telling the twins apart, especially if the twins are identical. Plenty of parents of identical twins paint the toenails of their newborns, to help family and friends tell the babies apart. One baby may be dressed in purple with purple polish on the toes. The other baby may have pink clothing and painted pink toenails.
For parents on the go, the 3-in-1 universal travels bags from Koalaty is one of the best baby gifts to give. The compact design makes it easy and convenient to pack up and go. When in use, the exterior pockets are great for holding diapers, wipes, and clothing. Be sure to give two at the twin baby shower, as each travel bag caters to one baby.
It's normal for babies and kids to be anxious when going to get their haircut. Help the parents by giving them baby hair clippers that are waterproof and quiet. The twins can stay in the comfort of their own home, saving time and money for the growing family.
Safety 1st makes a durable healthcare and grooming gift set. The kit includes 25 items to care for the newborn twins. It has a hairbrush, nail clippers, thermometer, and other baby things parents will need to care for babies.
If you know that the expectant mom plans on breastfeeding her twins, she will truly appreciate a nursing pillow that provides comfort to her and the babies. Brest Friend designed a pillow that fully wraps around the mom, allowing her to comfortably breastfeed twins at the same time. The pillow gives the twin mom back support and keeps the babies on the same feeding schedule.
Bibs has been leading the way in creating safe and durable products for over 40 years. One of their best sellers are the natural rubber baby pacifiers. The pacifiers are BPA free and ideal for babies to self-soothe. As an added gift, be sure to include pacifier clips to prevent the pacifier from falling.
More About Gifts for Twins
You will bring smiles to the expectant parents of twins, when you arrive with some of the best baby shower gifts to give. If parents have a baby registry, or they want guests to use their better judgement; these listed gifts will mean a lot to the mom and dad. You've gone above and beyond for them, by spending your free time shopping for the greatest twin gifts. Feel free to share the fact that you went to TwinStuff and learned about gifts that twin parents appreciate. Now that the shopping is complete, look forward to celebrating the twins' arrival!