If you've been pumping for a while and you don't get the breast milk you needed, it can be really frustrating — especially when you need to feed twins. But do you know that the milk you get can depend on which pump you're using? That's why you need to find the best breast pump for twins and get the milk you need so you have more time to do other things.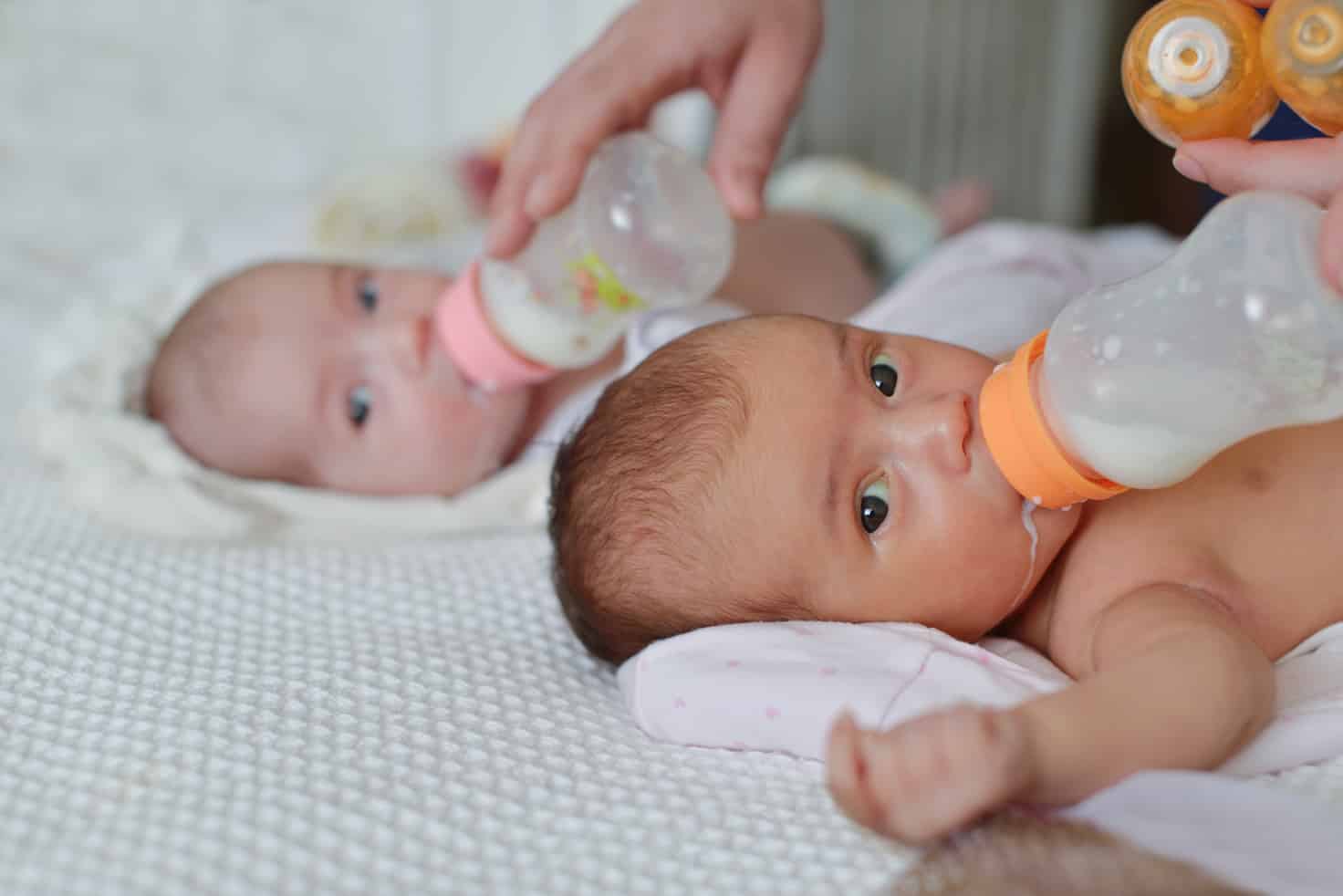 Best Breast Pump for Twins Comparison
Disclosure: The links to Amazon.com within this article are affiliate links. As an Amazon Associate we earn from qualifying purchases. This does not affect the price nor does it influence the products we feature.
| Product | Features | Quality | Our Rating |
| --- | --- | --- | --- |
| | 3.5/5 | 4.5/5 | 4 |
| | 5/5 | 4/5 | 4.5 |
| | 4/5 | 4/5 | 4 |
| | 5/5 | 4.5/5 | 4.5 |
The Ins and Outs of Breast Pumps
There are a lot of mothers who are breastfeeding their babies and have no problems producing sufficient milk. But that isn't always the case with everyone. Some find it hard to produce breast milk even when they have just given birth. There are even some parents that actually stopped breastfeeding as they seemed to have run out of milk, as well.
And then, there are those mothers who have breast milk, but find it difficult to produce enough for twins.
For these moments, a breast pump is handy, especially when you have two or more babies to feed at one time. Breast pump for twins are often anything a mom of one can use — however, the best ones are able to stimulate your breasts for more milk.
Apart from lack of milk, a breast pump can also provide you with more time for yourself. You only need to pump at least twice a day for enough milk and then have it saved for the rest of the day. You won't need to keep your baby attached to you so they can feed. Plus when you have twins, it's feasible they'd get hungry at the same time and the usual method won't work. This gives you and your partner a chance to do the feeding.
That is why breast pump for twins work well for working moms. It gives them the chance to provide the best possible milk for their twins even when they are away from them. That being said, we'll review some of the best breast pumps so you can maximise your milk and help you save more time.
Here are some of the things you should consider when buying a breast pump.
Breast Pump for Twins: Manual or Electric?
There are two types of breast pump for twins: manual and electric. While you can just pick anything for your preference, it's better to know when using a manual pump works best or when an electric type is the best choice.
Basically, you use manual breast pumps when:
You have a steady flow of breast milk.
You stay with your baby for most of the time.
Pumping is more of a way of relieving yourself from engorged breasts.
Going out isn't as often as it used to be and usually when only necessary.
You're feeding one baby or you don't feed as often throughout the day.
If you don't mind pumping manually.
An electric type would be a better choice if:
Your routine everyday requires you to be away from your baby for a long time.
You're traveling and won't be staying with your babies for a few days.
There isn't a steady flow of breast milk or if it's rather low.
You need to finish pumping as soon as possible.
There are also double electric breast pumps that will make the work faster and easier.
Portability
A portable pump is good when you're planning to have a vacation with the family. It can also be good when you are working and you need to relieve your breasts of the milk. Portability could also mean you're able to move it around the house quickly without much effort.
For portability, a good breast pump would either be lightweight, or it has a container with everything you need so you can carry it without you rather auspiciously too. While there is nothing to be ashamed of breastfeeding, it does get a little awkward obviously bringing a breast pump outdoors.
Cost
Most people would think that expensive products tend to work better than cheaper ones. However, that isn't always the case. The best product can be subjective as what works for you might not work well for others. That means an expensive breast pump for twins might not suit you even when you've spend hundreds on it.
Nonetheless, remember that electric pumps can be more expensive than manual pumps but these products deliver various advantages that a manual breast pump can't. In the long run, it'll also be more cost-effective than buying formula milk.
Cleaning and Hygiene
Remember, you're feeding your baby with the breast milk. As much as possible, your pump should be clean so the breast milk you get will be safe for your baby's consumption.
When looking for any kind of breast pump, it should be easy to clean. You must be able to reach into every part when cleaning it and make sure it doesn't accumulate any dirt, dust, or leftover milk.
It's also good to buy a breast pump for twins with a closed system. This guarantees the accumulated milk will be clean and just the way it is as it went out of your breasts.
Ease of Use
This is really a matter of preference. Some women will say that a manual pump is easier for them while others say an electric type will make it easier. There are also those who like two breast pump for twins as the best and easiest solution. Of course, people will also say that a certain brand works better than the other.
However, most of the popular types with positive reviews from customers are often the ones that are portable, works silently, delivers well, and is easy to assemble. You can start with those types of pumps and find the best one that works for you.
Suction
A pump's suction power could also be a great factor to consider. Some can be a little sensitive and a powerful suction could be painful. However, it does prove to be more effective than with mild suction power. Find somewhere in between that suits your preferences well.
Top Breast Pumps for Twins
Haakaa Silicone Breastfeeding Manual Breast Pump
"Soft and comfortable"
Made from 100% food grade silicone
Phthalate, PVC, and BPA free
Manual breast pumps
Portable and lightweight
Dishwasher safe
This Haakaa manual breast pump for twins is a manual pump which means you have to manually pump it so it suctions your breasts and milk comes out. This is made from 100% food grade silicone which makes it safe to use to gather the milk from your breasts. It's also phthalate, BPA, and PVC free to guarantee it won't contaminate the milk you're feeding your babies.
It has a soft feel to it, especially since it's made from silicone. This makes pumping easier as well as comfortable on the hands. The suction power is moderate which is a good choice for those who are a little sensitive or afraid of high-powered suction pumps that can cause pain after usage.
It's a rather simple breast pump that doesn't require anything else, which makes it an easy to use choice as well. Since there aren't any accessories, it's very easy to clean and dry. It's not really big so you can easily carry it with you all around, even when you travel. Just place it on your bag and you're good to go.
Medela Harmony Breast Pump
"Includes 2-phase expression technology"
Ergonomic handle
Includes 24mm breast shield
Manual pump for occasional pumping
Kit contains 5oz bottles
BPA free
As a manual pump, this Medela breast pump for twins is an easy-to-use pump where you can control the suction from mild to moderate or even hard. It has an ergonomic handle which makes it easier to pump. Since it's made without BPA, you can guarantee it won't contaminate the milk you're giving to your twins.
This breast pump has an exclusive Medela design that involves a 2 phase expression technology. Basically, it has the stimulation phase and the expression phase. The former imitates the fast sucking of babies to stimulate the flow of milk. You can press the upper part of the handle to activate it. Then, you can activate the expression phase with another button when the milk has started to flow for a steady suction.
It's really portable and lightweight so you can bring it along with you. For the price, you'll be getting a full kit complete with two 5oz bottles so you can instantly feed your breast milk to your babies. Plus, it also fits with PersonalFit breast shields.
Bumblebee Manual Breast Pump
"Natural suction pressure"
Made with 100% food grade silicone
PVC, BPA, and Phthalate free
Includes set with pouch
Collects up to 4oz
Comfortable and easy to use
This Bumblebee manual breast pumps can imitate the natural suction pressure of your babies. If you want a gentle suction, pump the upper part, near the funnel. The middle part produces the heavy suction pressure and the lowest part gives a moderate feel. However, no matter how hard the suction is, it's soft and perfect fit makes it easier to pump and feels comfortable.
The kit comes with various accessories such as a luxury pouch for portability, a dust cover so it doesn't get dirty when not in use, and a breast pump stopper so the milk doesn't leak and every drop goes to your baby. Bring it anywhere you go so you can relieve yourself from engorged breasts and pump milk for your baby.
Your breast milk is guaranteed safe to give to your twins since the pump is made from food grade silicone as well as PVC, BPA, and Phthalate free. The milk won't be contaminated with harmful products so you can feed it directly to them.
Bellababy Double Electric Breast Feeding Pumps
"Double pumps with closed system"
Double electric pumps
Closed system for safety
9 levels of suctions
4 sucking modes
Low noise
LED Display
This Bellababy is an electric type with two pumps for each breasts. Since it has two pumps, you can sit and relax, let it do the work and be finished instantly on both sides. You can control the suction from gentle to heavy suction pressure. This guarantees you won't feel any pain when using it, even when you have a lack of milk supply and you have to suck hard.
It also mimics the sucking of your baby so it feels natural and your breasts will be stimulated for milk flow. It's also made comfortably to fit you well for any of the suction and sucking modes. You can all control it on a high definition and sensitive touch LED screen that comes with the pumps.
It's a closed system, making sure external factors does not contaminate the milk and it's safe to give to your children. Plus, it's made with food grade silicone and free from harmful chemicals and materials. It can work for a long time with 2200 mAh capacity. It's only disadvantage is that it's a little more expensive than manual pumps.
The best breast pump for twins can make you produce more milk, which really helps when you have twins to feed. It helps save you money since you don't need to buy expensive formula milk. It can also save you the trouble as you can pump and you can preserve your milk for future use as well.