If you are looking to surprise the new parents of twins, and have no idea what to give them, TwinStuff has you covered! We have put together a list of the best gifts for newborn twins, along with thoughtful surprises for the new parents. Keeping a budget in mind, these unique and much-appreciated gifts are a welcome present for any parent of newborn baby twins.
Best Gifts for Newborn Twins: Essentials
Items that are used as essentials on a daily basis, or come in as twin gift sets, are warmly received by new parents. Listening to parents of multiples and having a team of parents who have twins, TwinStuff has some top-notch ideas to surprise the new parents. Even if these items are not on a registry for the twin baby shower gifts list, the following items will be used every day to care for the cute twin babies.
TwinStuff Twin Onesies Outfits for Baby Girls & Boys
Onesies made of 100% organic cotton are soft and comfortable against the skin of the precious twin baby newborns. Parents of twins will be going through plenty of onesies within any given day. Lesson the laundry load by giving plenty packs of cotton onesies.
Having extra pairs on hand means parents can easily unsnap the durable snaps, sliding the onesies over the heads of twin baby boys and girls. Clever sayings are imprinted onto the ribbed material, bringing smiles to everyone who reads the baby bodysuits. Parents will love when it comes time to do the laundry, as these are to be machine washed in cold water and there is no need to iron.
Bibs made of 100% organic cotton will complement any adorable twin onesie. These trendy 12" x 9.5" bibs are ideal for protecting each baby while breastfeeding or bottle-feeding on the nursing pillow. The twin baby gift sets of two bibs within each pack are equipped with durable nickel-free snaps, which makes putting on and taking off a cinch.
Made in the USA, the bibs are breathable against the skin of twin girls and boys, which will not irritate sensitive skin. After each use, the parents of the adorable twins can simply wash them and get ready for the next time they decide to use the memorable bibs.
Twin Baby Stuff to Buy
Pampers Swaddlers Disposable Baby Diapers
Diapers are the ultimate in baby shower gifts for twins boy and girl. Experienced parents of twins have found Pampers to be one of the best fitting diapers for their twin newborn babies. Free of parabens and latex, Swaddler diapers are hypoallergenic and breathable against baby's bottoms.
Though they may be soft to the touch, these diapers quickly absorb away any wetness to protect each twin baby. Parents were surprised when they found the newborn size to be perfect for the first week after their twins were born when born full-term. If you are unsure of what size to get, purchase one size up as parents will be using bigger sizes sooner than they may expect.
Pampers Sensitive Water-Based Baby Wipes
Wipes are one of the best gifts for newborn twins, they have many uses for new parents. Not only are wipes safe for baby bottoms, but gentle for faces and hands. These handy wipes make excellent twin baby gifts, as parents will want to have plenty within their reach. The sensitive wipes fit into diaper wipe refill tubs that allow parents to safely store the wipes away when not in use. Tubs have the capability to keep wipes damp and prevent them from drying up.
Fisher-Price Slow Much Fun Stroller Sloth
The stroller sloth toy is detachable and can be hung on the holders of the double stroller car seats. When attached, this hands-free toy is one of the best gifts for twin girls and boys. Parents will like the ase of removing the soft plush, which will provide many times of entertainment for the twin babies, as you will want to order two of these twin baby stuffed animal toys.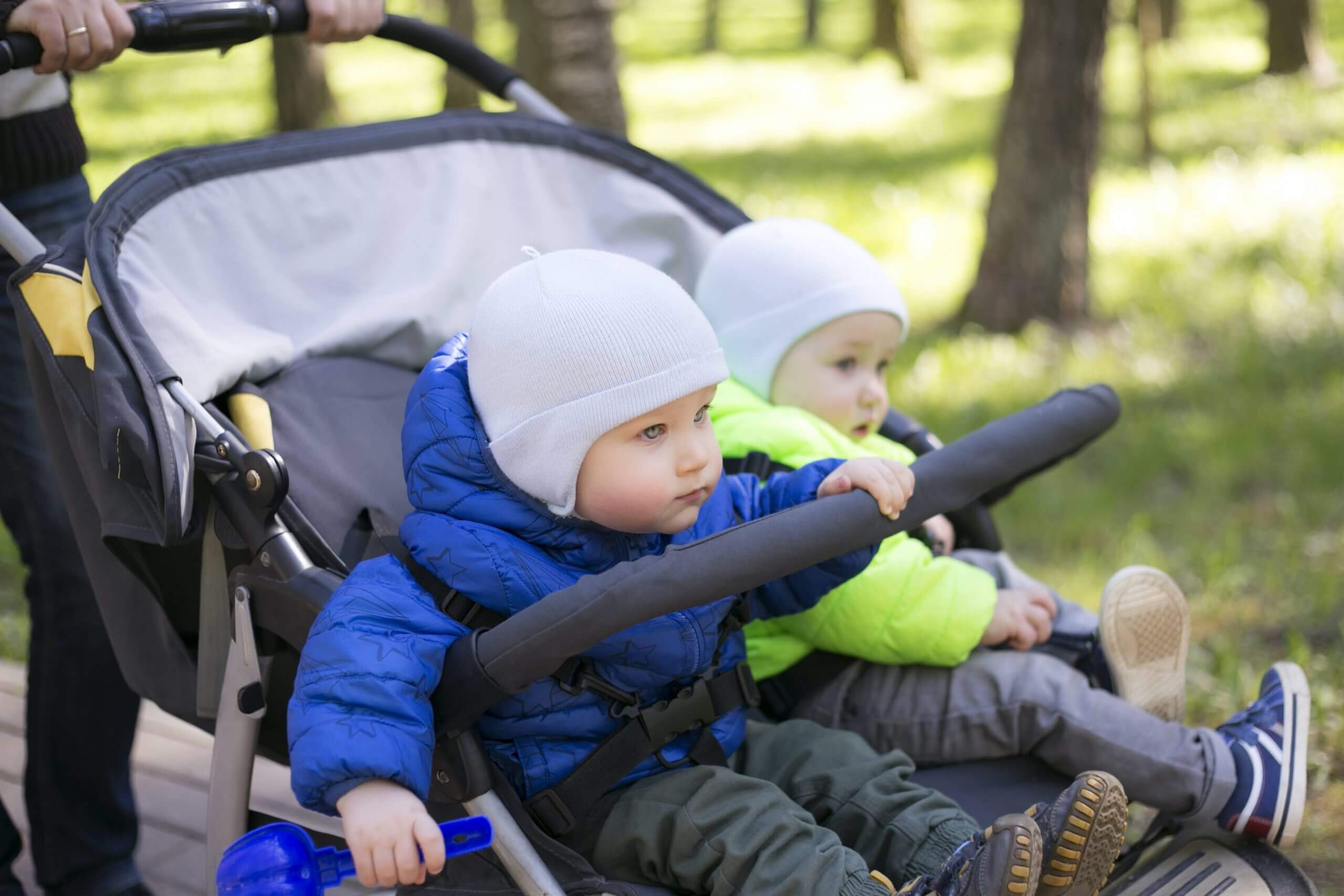 Gifts for Parents of Newborn Baby Twins
Not only we thought about the best gifts for newborn twins. When expecting twins, parents may forget to take care of themselves. Help to remind them by gifting a courteous present that allows them to take time out of their busy days to relax and unwind. Self-care is of the utmost importance, and experienced parents of twins have deeply appreciated the following items that they used when needed the most.
Taylors of Harrogate Classic Tea Variety Box
Tea allows parents to recharge in the morning and unwind at night. A decorative box filled with a variety of teas. The box contains decaffeinated tea, ones filled with fruity notes and others with hints of florals.
Pink Stork Pregnancy Flakes: Bath Salts with Pure Magnesium
Bath salts help to alleviate any swelling and discomfort that the mom of twins may experience. After a hectic day caring for twins, moms look forward to easing into a warm bath filled with Epsom salt to ease any tension. Melting the stress away will prepare the twin mom to properly tackle anything the rest of the day may come her way.
Gift cards are quintessential if you are unsure of what the parents need, and a gift card will remove the guesswork for you. Coming in an array of increments, gifts cards can be sent via email or you may deliver a hard gift card. Either way, a gift card is sure to make any parent of twins smile.
More About
Gifts for Newborn Twins
Twin parents need help when their newborn twins arrive. Surprise them with much-needed essentials to help them and their babies. If you have the time and resources, offer to help the new parents around the house, or provide them with meals to save them from cooking for one night. Additional best gifts for newborn twins and parents can be found within our online forum, TwinStuff Facebook Group.
Be sure to pass along the information to the parents of twins and invite them to check out TwinStuff for more informative articles on helpful tips throughout the many milestones of having twins.