Compared to naming twin girls and twin boys, perhaps it can be a bit trickier when you start thinking of boy and girl twins names. With so many wonderful names out there, deciding on the best name combo takes a little more than choosing names that sound good together.
The challenge with coming up with perfectly matched names for them may leave you doodling on a whole pad of paper and still not get anywhere. So, before anything else, be thankful you have two beautiful babies on the way. Get all the inspiration from knowing that choosing a name for each of them can be one awesome ride!
How to Choose the Best Name Combinations for your Boy and Girl Twins
The kind of names you would want are those that complement each other. They should also sound like they naturally go together and are easy to pronounce and remember. To help you achieve these, we have some tips to help jumpstart the process.
Think of choosing of your twins names by the first initial. This, perhaps, is the easiest way to do it. You can get inspiration from popular names this year or names of famous people you like.
To get creative, you can vary the sound and rhythm of the names you have in mind by being particular with syllable or sound. You may have names that are two one-syllable names like Max and Bea. You can also have two names that have the same middle or ending sound.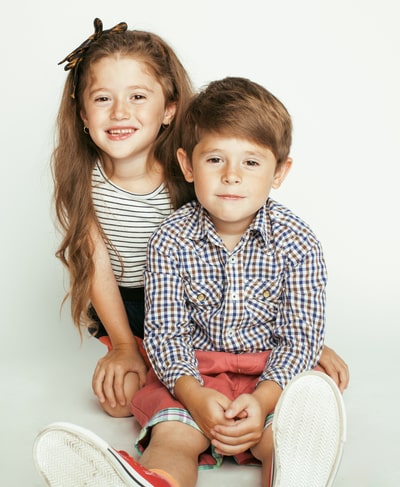 Select names based on style or theme. You can pair up two really compatible classic names like Alexander and Katherine, or you can go with trendy names Carly and Hunter. Another style of naming is getting some bursts of creativity from the exotic like Ingrid and Dante.
In addition, choosing names based on a similar theme can be great, too. You can have a destination theme for twin baby names like Paris and Brooklyn, or a nature-inspired name pair like Aspen and Autumn.
Choose matching names by the meaning of these names. This gives you a ton of great options. For example, if you would like your twins' names to reflect the word "lion," focusing on the virtue of having a "heart of a lion," then their names can be Ariel and Leo.
If you want them to be based on the Hebrew faith, specifically, "Who is like God?" then the names Michael and Michaela can be a good match. These kinds of names would all depend on what thought you're going for.
Choose names for your twins based on origin. This not only upholds your family heritage, but it also gives the names of your twins a lot more significance. Of course, choosing names based on origin isn't exclusive to those who belong to a certain culture or heritage.
For example, names inspired by a Scottish heritage can be Blair and Cameron. If it's more of German inclination, you can go with Christopher and Claudia.
Boy and Girl Twins Names Ideas
Boy Girl Twin Names That Rhyme
Abbie, Gabbie
Adrielle, Riezel
Aidah, Allah
Bernie, Marvie
Bran, Brianne
Cara, Arla
Christianna, Christiane
Clarkson, Maddison
Darin, Devin
Ella, Emma
Franci, Santi
Glyndon, Brendon
Harley, Marley
Jaime, Cassie
Jovanne, Joanne
Katlynne, Kaithlynne
Kevin, Lenin
Louie, Ayee
Mason, Madison
Massa, Jessa
Pammy, Sammy
Quin, Finn
Ricky, Nicky
Rikki, Juddi
Sarah, Torah
Tate, Kate
Tristan, Kristen
Tristan, Kristen
Wilson, Allison
Winnie, Freddy
Xander, Xandria
Zoey, Zachar
Cute Boy Girl Twin Names
Abigail, Andrew
Abigail, Benjamin
Adam, Eve
Andrew, Andrea
Andrew, Emie
Anna, Will
Annabelle, Leonard
Bay, Beach
Benjamin, Abigail
Bonnie, Beau
Bowie, Cy
Braydon, Baileesh
Brian, Brianna
Bronx, Brooklyn
Brooklyn, Bronx
Byrum, Baely
Cassandra, Sunshine
Charlene, Myla
Charles, Cadee
Charlie, Dolly
Charlie, Poppy
Charlotte, Charlie
Chloe, Caleb
Claire, Clive
Coco, Sawyer
Darby, Sullivan
Deelan, Dean
Elizabeth, William
Emily, Edward
Emily, Ethan
Emmanuel, Emma
Emme, Maximilian
Ethan, Emily
Garret, Grace
Grantland, Gabee
Isabella, Alexander
Jack, Jill
Jack, Dorothy
Jackson, Jamie
Jake, Samantha
John, Lucy
Jonathan, Erica
Joya, Jason
Julita, Hudson
Juno, Rex
Justice, Jacee
Kenrich, Kaden
Kimberly, Jack
Kitty, Kate
Lander, Lace
Laurence, Lacee
Lilian, Luke
Logan, Lily
Lyle, Lily
Mackenzie, Madison
Madison, Michael
Madison, Morgan
Mark, Charlotte
Marley, Mabelle
Matt, Cameron
Max, Emme
Maxx, Kate
Nathalie, Nathan
Nathan, Nathalie
Nelson, Eddy
Newell, Nachelle
Olive, Jacob
Oliver, Olivia
Olivia, Ethan
Owen, Olivia
Palma, Page
Piper, Pierce
Ranfield, Radella
Roper, Raileigh
Ryan, Emma
Ryann, Rodney
Samuel , Sophia
Slater, Bronwyn
Sophia, Samuel
Stanbury, Sabetha
Stanlee, Sabrina
Tarrence, Tait
Thomas, Zoe Grace
Vivienne, Knox
Zoe, Zachary
Unique Twin Names Boy and Girl
Aiden, Nadia
Aiden, Neve
Ainsly, Adiah
Amelia, Angus
Arrow, Zeppelin
Ashlea, Arla
Augustus, Augusta
Axel, Alexa
Bert, Bertha
Brandyn, Bailee
Clovis, Cadee
Coco Trinity, Sawyer Lucia
Daryl, Amia
Denley, Dael
Eden, Maxi
Edmon, Ebba
Ella, Eli
Elric, Ebba
Emalie , Emmett
February, Freya
Felix, Freya
Fitz, Faeryn
Flora, Forest
Frick, Frat
Godric, Gabi
Grayce, Gavin
Haizel, Hugo
Hazel, Phinnaeus
Imogen, Isiah
Irving, Alvina
Isabel, Isaac
Isaiah, Isabella
Ivo, Ileen
Jada, Jaden
Janaury, Nova
Jessie, D'lila
Jevon, Jacee
Josiyn, Jacee
Kanleigh, Kandi
Kayla, Kacee
Knox, Vivienne
Leticia, Laris
Lucille, Hudson
Mark, Marcella
Moroccan, Monroe
Nadia, Aidan
Naomi, Noa
Noel, Leon
Nyle, Lyla
Oren, Nero
Penelope, Pax
Phinnaues, Hazel
Pine, Petunia
Roman, Adele
Ronald, Gus
Rose, Ren
Samuel, Aida
Tristan, Sasha
Victoria, Ysabel
Violet Moon, Knox Blue
Violet, Orange
Ysabel, Victoria
Zack, Zoey
Zander, Zoe
With more than a hundred ways to think of the perfectly matched boy and girl twins names, you have just enough to get started with this list we shared with you. Get creative and celebrate the fact that it is really incredible to have twins in the family!