The holidays are coming to a close, and the new year is vastly approaching. Whether you are preparing to pack away outfits for your Hanukkah, Kwanzaa, or Christmas twins; or pre-planning for next year's winter festivities, TwinStuff has a list of adorable choices of fashionable boy girl twin outfits that are sure to be a hit for the upcoming year. From first birthday outfits for girls and boys to stylish attire for family pictures, we compiled a month to month list of our top clothing choices for the new year.
Baby Boy And Girl Matching Clothes
Keep your newborn baby girl and boy cozy, dress them in cotton gowns. Breathable and lightweight, these cotton gowns are perfect for a snuggly day indoors. Your cute baby boy and girl twins will stay comfortably warm in the long sleeve gowns.
When it comes to your baby girl twins, dress them in matching infant and toddler girl outfits. These can include high-quality matching outfits such as long sleeve onesies with pink, purple and red hearts. Another option is to place a sparkly Valentine's Day romper over a white onesie. Newborn twin boys will look handsome in a long sleeve burgundy, plum or dark red onesie. If stepping out, toss on a pair of cotton blend corduroy overalls for a well put together look.
Feeling lucky and in love with toddler boy and baby girl matching outfits that have a St. Patrick's Day vibe. Hoodie bodysuit onesies are gender neutral, making them a perfect fit as boy girl clothing options for your twins. Pair the tops with cotton leggings for the ideal brother sister combo set.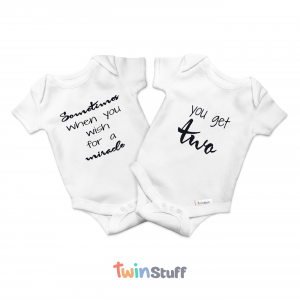 Baby showers need inspirational gift giving ideas for the new arrivals. If you are expecting twins in the new year, look no further than TwinStuff for your baby shower gift ideas. Not only do we put together thoughtful suggestions on what every parent of twin needs or wants, but we created one-of-a-kind organic cotton onesies and bibs for your twin babies.
Your twin babies have delicate skin and need quality material to keep their skin free of any irritation. After splashing around in their bubble bath, dress your twin baby girls in long sleeves, footie, pajamas. These one-piece girl clothing sets are a great way to put an end to a fun spring day. If your twin boys get warmer during the springtime, keep them cool in twin boy clothing sets of organic cotton onesies. The stretchy fabric is breathable and free of any harmful chemicals. They will rest easy and look stylish, as they have sweet dreams after a day of fun.
Matching baby toddler outfits are blissful for a complete first birthday look. Celebrating twin girls' half birthday by dressing them up in frilly tutus, onesies and coordinating leg warmers. The first birthday outfit girl will look sweet when dolled up in her finest, to commemorate the special occasion. Her twin brother will look lovely in his own first birthday outfit boy attire. Set the backdrop with some festive, gold, mylar balloons to complete the look.

2 cute twins: Matching Outfits
Your boys will soak up the sun in their lightweight swim trunks, while twin sisters look like jewels of the sea in their shimmering swimsuits. As a cute twin baby gift, ask for a couple of rash guards for each of your twins. This protects them from harmful UVA and UVB rays, while keeping them cool when playing outdoors.
Backyard BBQs and evenings around a bonfire call for an outfit twin apparel that is versatile and comfortable. For your twin girls, consider a two-piece outfit that pairs well with a sweater for the cooler evenings. Your twin boys will have fun playing outdoors in a basic white t-shirt and a pair of machine washable shorts. Two-piece outfits make changing easier. Whether it is for a diaper change or enjoying one last moment playing in the pool.
Autumn is around the corner, which means the colorful leaves are emerging as are the cooler days. One of the best go-to pants is a pair of denim jeans for your twin babies. Whether it be a lunch in the park or dressing up for photos, your babies will be ready for any occasion the fall month brings in. Put the jeans with a cute onesie for your boy girl twins. This leaves them looking stylish throughout the fall season.
Baby Outfits Twins: Boy Girl Twin Outfits
Celebrate your little pumpkins first Halloween in adorable matching sets, adorned in the traditional black and orange color combinations. Your twin girls will receive many pieces of candy in their magical unicorn costumes. Meanwhile, your newborn twin boys will look dino-riffic in their cozy dinosaur onesies.
If you are a football loving family, bring your babies in on the fun by dressing them in your favorite NFL team gear. Your twin girls will have fun cheering for the home team in NFL jersey dresses with matching diaper covers. Twin boys will score a touchdown in cuteness with their very own NFL matching set.
The year has come full circle, and what a better way to capture family moments then by your twin babies lounging around the house in festive pajama sets. These coordinating pajamas are made of 100% cotton and are snug fitting. They are perfect outfits for your twins to play, sleep and snuggle in.

Additional Ideas For Your Twins Outfits
No matter the month, TwinStuff has you covered on the best boy girl twin outfits. From lounging around the house with family to taking family pictures. For additional ideas from experienced parents of twins, join our TwinStuff Facebook Group. The online group provides insights on tips and tricks throughout the many milestones parents face when raising multiples. If you are looking for additional suggestions, be sure to read our blog posts. We help guide expecting twin parents through the planning and preparation of parenthood, along with providing support postpartum and beyond. Whatever the year may bring, TwinStuff has you covered.