Twins are becoming more and more common, so it's not unexpected that a huge amount of celebrities are also lucky enough to have twins. Here's our list of celebrities who have twins.
17 Sets of Celebrities Who Have Twins
Cristiano Ronaldo
Famous footballer Ronaldo attracts a lot of controversy and attention, and has recently welcomed a pair of twins into his life amidst a storm of questions.
It turns out that Cristiano flew to California and used a surrogate to conceive his twins, because using a surrogate is illegal in his native Portugal.
His twins are probably going to be the most famous in the world. Even just their announcement picture on instagram was liked nearly 8 million times!
Beyonce and Jay Z
Born on 18th June this year, Beyonce's twins were born early, like a lot of twins, and kept under wraps and in medical care for the first few days of their lives.
Thankfully, Rumi and Sir Carter came out of the hospital healthy and happy, and there's news that Beyonce might have already trademarked their names!
George and Amal Clooney
George waited a long time to be a parent, even scoffing at the idea in the past, but the handsome 56 year old is supposedly doing everything he can to be the best parent possible, even hiring ex-secret service agents to make sure that his children are as safe as possible.
It's safe to say that his twins, Ella and Alexander, are going to have their every wish catered to. Is it too late to join the family?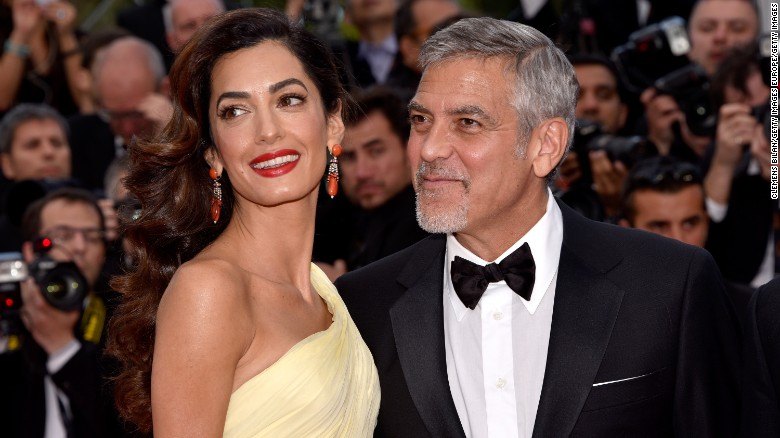 Maria Carey
They say that listening to classical music in the womb makes your children smarter, but Maria gave birth to her twins Monroe and Moroccan whilst listening to her own music!
Lets hope they're going to grow up to be as successful in the music world as their mom!
Roger Federer
Roger has to be the luckiest man alive. Not only is he charming, successful, and arguably the best tennis player who has ever lived, he's got not just one, but two sets of twins!
His girls, Myla Rose and Charlene Riva came first, and he's recently welcomed Leo and Lenny into his family too!
Chris Hemsworth
The mighty Thor has a mighty family, with his twins Tristan and Sasha entering the world in march 2014. Hemsworth's partner Elsa said that she felt 'complete happiness' after she gave birth to them both.
Neil Patrick Harris and David Burtka
Neil Patrick Harris and his husband decided that being a father mattered so much to both of them that they would both fertilise eggs from their surrogate and see what happened. Amazingly, both took and they ended up with Gideon and Harper.
Not only does this make them one of the rare cases of twins with different fathers, but Neil Patrick Harris has also said that he doesn't know which of the children carries his DNA, and he's happier that way!
Mo Farah
British Olympic hero Mo has twin daughers, and apparently they're already following in their runner father's footsteps. He's come out to say that even though they are only 4, Amani is shaping up to be a long distance runner like her father, and Aisha is more of a sprinter.
Julia Roberts
Julia Roberts gave birth to her two twelve year old twins, Phinnaeus Walter and Hazel Patricia, all the way back in 2004.
Jennifer Lopez and Marc Anthony
J.Lo and Marc decided to give their twins theme names, which more and more people are doing these days. They called them Max and Emme, which I just love.
(If you still don't get it, say them both out loud…)
Sarah Jessica Parker and Matthew Broderick
SJP had her twins using a surrogate, and spoke out about the surprise that came from finding out that she was expecting twins from the woman who was carrying them for her.
Marion Loretta Elwell and Tabitha Hodge were born in October 2009, after both SJP and Matt had to make a crazy flight halfway across the country to be present at the birth.
Ricky Martin
Another set of twins, another surrogate! Ricky's two sons Matteo and Valentino weren't just fantastic additions to the family, Ricky has admitted that they were a huge part of his decision to come out as gay in 2010.
Angelina Jolie and Brad Pitt
They might have split up now, but Brangelina had a pair of fraternal twins amongst all their children. Knox Leon and Vivienne Marcheline were the seventh and eighth children in Brad and Angelina's family
Rebecca Romijn and Jerry O'Connell
Rebecca and Jerry had their twins Dolly Rebecca Rose and Charlie Tamara Tulip into the world as their first children, and instantly decided that the pair were enough! They said that 'four seems like the perfect number,' a sentiment that a lot of new moms might agree with.
Lisa Marie Presley
Lisa Marie struggled for years with infertility, but eventually conceived her twin girls Finley and Harper, supposedly with the aid of blood thinners.
Marcia Cross
Marcia freely admits that she used IVF to conceive her twin daughters, Eden and Savannah, and when you see how cute they are, you can understand why!
Julie Bowen
Modern Family actress Julie is an inspiration to us all, mastering the double football hold so she could breastfeed her baby boys John and Gus together. It's a technique we've written about before, and this just proves that it's possible, even if you live the busy life of a celeb!
That's our list of celebrities who have twins. Do you have any to add?