What are the preferred twin baby carriers that parents adore? What works for parents of a singleton may not be best for parents of multiples. For example, is a twin baby carrier better than a single carrier?
After researching products by WeeGo, TwinGo and other reputable companies; we have organized the best twin baby carriers on Amazon. We asked parents of multiples for additional insights, along with reading posts within our TwinStuff Facebook Group. Read on for new and best-selling goodies that help parents of twins throughout the exciting first year of their life with twins.
Twin Baby Carriers
When you were shopping online for baby items, did you find information on the Weego twin baby carrier? When you went online, did you look for Weego twin baby carrier reviews? Like us, you may have discovered that the Weego twin baby carrier is not available on Amazon. This can make it challenging to read honest reviews from twin parents.
As an alternative, we steered away from Weego. Instead, we listened to experienced parents of twins on their preferences when it comes to using a twin baby carrier. Here are our picks for the best twin carriers that allow you to go hands free when carrying your babies.
Capable of holding twins weighing 10 pounds to 45 pounds, the TwinGo carrier is a great option for you to have. Whether you decide to have it on your twin baby shower registry, or purchase one for yourself, you will be thankful for doing such.
The TwinGo structured carrier has adjustable waist and shoulder straps, allowing you to have a comfortable feel when carrying your twin babies. Tightening the straps around your wait alleviates some of the pressure from your shoulders. Having one twin in the carrier on your front side and the other twin baby securely in the carrier on your back, better aligns your spine and hips.
Additional shoulder straps come with the TwinGo carrier. When you are out and about with friends or family members, they can help you by carrying your adorable twins. The twin carrier can easily turn into a single carrier for two adults to use. Each of the adults can use the single carrier by having one of the twin babies resting comfortably in the holder. Whether you prefer to use the twin carrier for yourself, or to split the carrier into two separate carriers; you and your twin babies will feel comfortable and safe with the TwinGo baby carrier.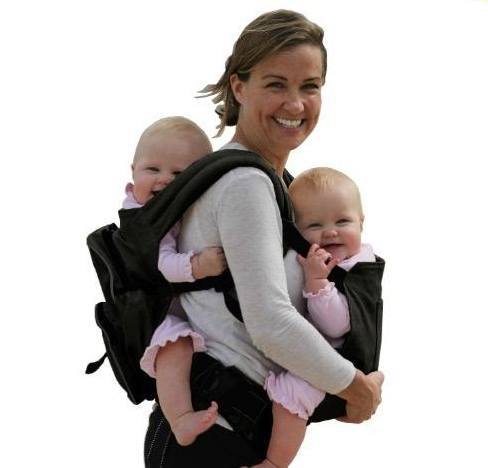 Keep your newborn twin babies close to you in the stretchy Boba wrap. When wrapped correctly, this wrap can carry twins weighing a combined weight of 35 pounds. Boba explains how to properly wrap by starting with the center of the soft wrap. Place a panel onto each of your shoulders to form an "X" on your back. Cross the fabric over the panel, on your front side. Tie a knot to secure the carrier around you, and you should be all set to carry your newborn twins.
Boba made the wrap baby carrier with cotton and spandex. Soft French terry cloth is easy to clean and unlikely to wrinkle. An added bonus is that the baby wrap carrier is machine washable. You can easily toss it into the washing machine and the dryer to keep the carrier clean and dry. Giving you more time to spend with your twin babies, than cleaning the carrier.
JJ Cole Agility Stretch Carrier
Similar to the Boba Wrap and the Mini Monkey carrier; the JJ Cole baby carrier is a great option for carrying your newborn twins. This carrier easily slides on like a t-shirt. Lightweight and breathable, this stretchy carrier by JJ Cole provides a secure way for skin to skin contact with you and your newborn twins. Your twins will be lulled to sleep by listening to your heartbeat, as they nuzzle next to you.
Other twin parents have mentioned that the stretch carrier is best for carrying twins if you order one size up than what you would normally wear. The extra material gives you more room to hold onto your twin babies.
The soft baby carrier is machine washable. It can safely hold a combined weight of 35 pounds. It is versatile by having the ability to be worn in three different positions. This gives you the flexibility for the best fit. Keeping you and your babies safe when moving around.
Twin Baby Carrier Accessories
Make sure you have everything you and your babies need, when utilizing a baby carrier. We have essential accessories, based upon suggestions from twin parents. These will keep your twin babies comfortable while being carried in the twin baby carrier.
Not only do we promote products, but we also create adorable twin items! Cotton onesies are ideal for warmer days. There are nickel-free snaps to make diaper changing quick and simple. Protect the onesies with cotton bibs that have clever twin sayings on them. These are perfect for any picture-perfect moments.
Hudson Baby Unisex Cozy Fleece Booties
Keep your baby's feet warm in fleece lined booties. The unisex colors make it ideal for boys and girls. These are perfect for the colder weather.
Getting Ready for Twins?
Within the first year of being a twin parent, you may feel overwhelmed amongst the chaotic schedule of having twins. You only want the best for you and your babies but have limited time to scour through Amazon. You no longer have to look around, as TwinStuff has you covered.
Stay up to date on the newest twin trends, along with top-rated items to better assist you and your growing family. Join our TwinStuff Facebook Group as reliable and friendly parents of twins chime in with commonly asked questions, along with profound answers that many parents seek to find. Whether you are in search of Weego twin carriers or for additional TwinStuff onesies; we will be here to help you every step of the way.