As a parent, you only want the best for your cute twins. How do you know which twin baby clothes are the best for your babies? Where do you begin to shop for sweet twin outfits and cute onesies? Look no further as we, at TwinStuff, have you covered! After speaking with other parents of multiples, and searching online, we have gathered plenty of ideas to share with you. Here are our top picks of gifts to have on your twins baby shower gift registry.
Matching Baby Toddler Outfits
TwinStuff Onesies for Twins Boy and Girl
The clever onesies with adorable twin sayings are ideal gifts to have on your twin baby shower gift registry. Sturdy snaps are nickel-free and reinforced for amazing support. The 100% cotton onesies have envelope styled collar stretches and keeps your twin babies' cozy. Gender-neutral design means that twin baby girls and boys will look picture perfect when wearing the onesies.
JunNeng Hawaiian Toddler Baby Boy Shorts Sets
When looking for twin boy clothing sets, parents enjoy versatility. Hence the reason for the Hawaiian shirts and matching shorts to be on the top of twin parents gift registries. The matching baby toddler outfits are made of breathable cotton and linen. Dress up the set by adding a sweet bowtie. Dress it down by outfitting your twin boys with casual sandals. Add multiple sizes for future use, as these fit 12 months to 5T.

What About these Twin Outfits?
Simple Joys by Carter's Baby 4-Pack Pant
Like onesies, you can never have too many pants. Carter's has a set of 4 pants to complete both boy and girl twin outfits. Certain prints are made of 100% cotton, while others are made of a soft cotton blend. The elasticized waistbands can expand and stretch to keep your twin babies comfortable throughout the day.
YSCULBUTOL Pack of 2 Twins Bodysuit Set with Hats
Your guests will enjoy the humorous twin sayings that are located on each of the two onesies. Matching hats will keep your babies warm during the cooler days. If your twins get messy, when wearing the onesies, there is no need to worry. To clean, simply turn the garments inside out and machine wash in cold water. This will keep the non-toxic ink in great condition and ready to be worn over and over.
Hanna Andersson Baby/Toddler One-Piece Footed Pajama
Twin baby clothes do not stop at what outfits are best for your twins during the daytime. For nighttime, toddler boy and baby girl matching outfits are the way to go. The footed pajamas keep your twins' feet cozy as they soundly sleep. This is another clothing item to register for in multiple sizes. This way, you will be prepared with additional pajamas for your growing twins.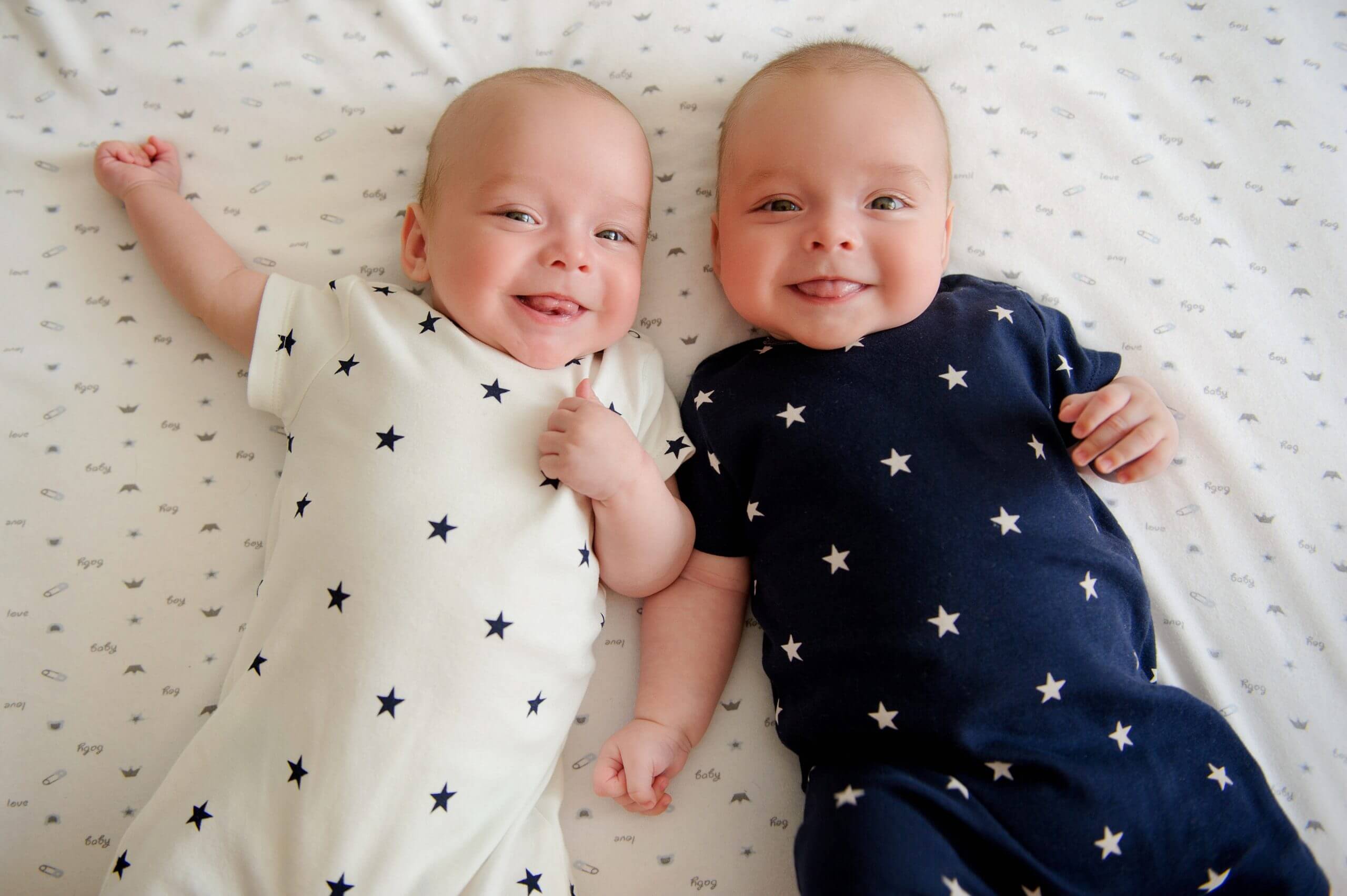 Hudson Baby Unisex Cotton Long Sleeve Bodysuits
During the colder months, be sure to keep your twins warm and snug by having these long sleeve bodysuits listed on your baby shower registry. The twin baby shower gift can be registered many times because they vary in designs and sizes. There are plenty of designs to choose from to create matching infant and toddler girl outfits and boy outfits. Choose from a simple apple design or woodland animal friends to be on the onesies. Sizes range from zero months to 2T. Similar to the short sleeve onesies; place multiple designs and sizes to make your own boy and girl matching outfits to have on hand for the up and coming months.
Marvel Baby Boys' 5 Pack Bodysuits
If you and your family are fans of superheroes, then these 5 bodysuits will be the talk of the baby shower. Whether you are expecting fraternal twins or identical twins, the pack of onesies are fun for your babies to wear when they visit family gatherings or to playdate parties. Sizes range from newborn up to 24 months. Be sure to turn the onesies inside out when washing them in a washing machine. To dry, simply line dry or tumble dry on low.
Hudson Unisex Baby Cotton Coveralls
When shopping around for one-piece twin outfits, twins adore these long sleeve coveralls. Place plenty of these 100% cotton coveralls onto your twin baby shower gift registry. These make for some cute baby gifts to receive, and ones that you will be able to use for months from now.
YSCULBUTOL Baby Bodysuit Twins Set
Twin boys and girls look charming in these festive bodysuits. Whether you put these outfits on your twin babies for a costume party or for a photo opportunity, you will be glad to have these for your twins. America's favorite condiments are on these red and yellow onesies. Other choices have a popcorn box on the white bodysuit that pairs perfectly with the red "chill" outfit. If you are on a roll with registering these bodysuits, you will want to add the set of two matching sushi onesies. Plastic snap closures are durable and strong around the legs.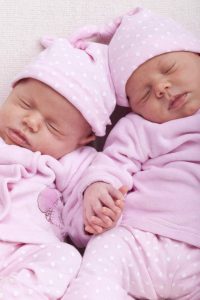 Hanna Andersson Unisex Baby 2 Pack Sleeper Gown
The set of two organic cotton gowns are lightweight and free of any harsh chemicals. An encased elastic is on the hem, providing some room for your twin babies to kick and to be comfortable. The long sleeves have cuffs to keep tiny hands warm and prevent any accidental scratching.
Twin Baby Clothes: Join Our Family for More Ideas
As you can see, there are many adorable baby boy and baby girl clothes to choose from for your twin baby gift registry. At TwinStuff, we will only provide you with high-quality and sweet outfits for your cute twins. Along with clothing suggestions, we also blog about other amazing products that parents of twins swear by.
If you are searching for a positive group of other parents raining multiples, then you will enjoy participating in our online TwinStuff Facebook Group. In the group, supportive moms and dads come together to offer advice to other parents. Being a parent of twins is quite the adventure. Along the milestones, rely on TwinStuff for dependable advice and clever ideas on how to celebrate parenthood wherever the roads travel.