Congratulations, you are one of the few women blessed with a multiple pregnancy, precisely 3 in 100 births in the US according to the University of Rochester Medical Center. Learning that you are pregnant with twins is very exciting news, but we bet you it caught it a little bit off guard.
Singleton pregnancies are one thing, but expecting twins can seem a little bit scary, especially during the twin pregnancy first trimester. This is the time when you are first learning about what to expect and getting mentally prepared for bringing two lives into this world.
But don't worry, because our team of expert doctors is here to tell you everything there is to know about your twin pregnancy first trimester and help you win the game. Why not have some fun with it while taking ultimate care of yourself and your babies?
What to Expect During Your Twin Pregnancy First Trimester?
Twin Pregnancy first trimester is rather exciting and also crucial for the healthy development of your fetuses. During the first few weeks, many women carrying twins are still unaware of their double-blessing and the first twin ultrasound appointment is unforgettable. Although there is no other way of knowing you are expecting twins apart from an ultrasound check-up during the 6-8th week of your twin pregnancy, many women's motherly instinct kicks in straight away.
Another thing that can point to a multiple pregnancy is the exaggerated pregnancy symptoms. They not only are much stronger and frankly unpleasant than singleton pregnancies but also occur much earlier on. Being pregnant with twins means double nausea, double fatigue, and double breasts tenderness. Extreme nausea is quite common for women carrying twins due to the high levels of hCG – Human Chorionic Gonadotrophin hormone produced in the body.
Twin pregnancies are also slightly riskier than singleton pregnancies and you should be extra careful during the first trimester. This means not taking any adventurous risks, getting overtired, or eating too little/ too much, because all of these increase the risk of having a miscarriage. Moreover, preterm labor and low birth weights are quite common for multiple pregnancies, so you should take extra care of yourself and your babies.
Oh, and forget about the hot tub wine-down time. Studies show that hot-tubbing can increase your internal temperature and put the babies at risk for anencephaly and gastroschisis, which are life-altering birth defects. Instead, why don't you indulge in a nice feel relaxing therapy with a footbath? We highly recommend you the Foot Spa/Bath Massager with Heat, Bubbles, and Vibration by MaxKare. It comes with 16 massage rollers with mini detachable massage points to give you the best foot spa experience.
Twins with One Placenta and Two Sacs, Or Two Placentas?
Twins split in the womb within the first 72 hours after fertilization. But how do you know if you are expecting fraternal or identical twins?
Fraternal twins happen when two eggs are fertilized by two different sperms, which creates two zygotes that become two embryo sacs and each has its own placenta. During an ultrasound in the first trimester, you will notice a very thick membrane between the two sacs. This is how you will recognize a fraternal pregnancy with two separate sacs and two separate placentas.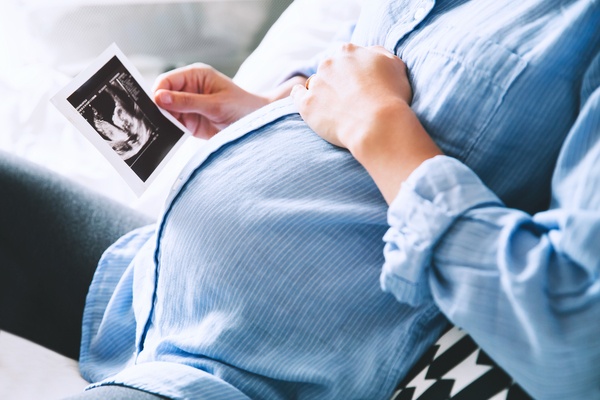 Identical twins form when only one egg is fertilized and the zygote splits into two forming two embryo sacs and one placenta. The split happens early in the pregnancy. On the ultrasound, you will see a very thin white line between the two sacs, which reveals identical twins that are in separate sacs sharing one placenta. On separate occasions, there will be no dividing line, which means that the identical twins are sharing the same sac,
It's really important to identify what type of twin pregnancy you are having to be able to tackle potential complications, which are different for each type.
1 – 4 Weeks Pregnant with Twins: Symptoms and Self-Care
The first four weeks of your twin pregnancy is when you start experiencing some of the most common pregnancy symptoms, but it's likely you are not yet aware that you are pregnant at all.
The symptoms include morning sickness, as well as, tender and swollen breasts. A great way to combat nausea and vomiting is by inhaling peppermint essential oil, such as the Gya Labs Peppermint Oil for Aromatherapy. The peppermint scent is ideal for alleviating morning sickness and can also help you with likely headaches and pain in your body. Simply inhale it directly from the bottle, put a few drops on a cotton pad or add it to a diffuser, and relax.
5 – 8 Weeks Pregnant with Twins: The First Twin Ultrasound
During the first 6 weeks, ultrasound twins are going to be identifiable and you might even be able to notice their little heartbeat that will literally melt your own heart.
But as your pregnancy progresses in the first trimester, so do the symptoms. Apart from having nausea and breast tenderness continued, you are to expect frequent urination and fatigue added to the package.
Make sure you rest a lot and remember to take your vitamins! Iron deficiency is quite common during pregnancy, especially during a multiple pregnancy. That is why it's extremely important to take an iron supplement. We truly recommend you the Prenatal Multi + DHA Softgels by Nature Made.
They are clinically proven to help the body absorb not only iron; but also folic acid. Doctors encourage all pregnant women to take a folic acid supplement starting one month before and throughout your pregnancy to prevent birth defects of your baby's brain and spinal cord. The positive effects of the Nature Made Supplements are tried and tested by content customers. One customer says: "I took these before, during, and after my first pregnancy and I made a perfectly healthy baby. I trust them." So go ahead and stock up on these superhero vitamins!
Another thing doctors advise you to do during your twin pregnancy first trimester is gain weight. We know that this might sound like it came out of the blue, but the expression "eating for two" has never been truer. Ideally, you should try and gain 40 to 50 pounds over the course of the pregnancy. This, however, doesn't mean stuffing your face with everything you see in one go. Keep it moderate but slightly indulgent.
9 – 13 Weeks Pregnant with Twins: Get Ready!
Here is the symptoms update on the last stretch of your twin pregnancy first trimester. Expect fuller breasts and vaginal discharge.
Vaginal discharge shouldn't worry you because it is completely normal and kind of a recurring theme during your twin pregnancy. It occurs due to the increased level of blood and hormones going through your body. However, if the vaginal discharge is not white and clear, and odorless, this might be a signal for an infection, especially if there is any itching, burning, or a bad smell. In that case, speak with your healthcare provider.
What you can do during the 9-13th week of your twin pregnancy to ease the symptoms and take ultimate care of yourself is to treat yourself with a body oil that will prevent you from getting pregnancy stretch marks and will hydrate your skin. Why not try the Bio-Oil Skincare Oil? It is packed with powerful, natural oils in the likes of Vitamin A Oil, which promotes the formation of new collagen and assists in skin renewal. Vitamin E Oil, Chamomile Oil, Sunflower Oil, and Lavender Oil are anti-inflammatory and boost healthy skin. Nurture yourself with the Bio-Oil Skincare Oil and you will thank yourself later.

The first trimester is also the time when many women come up with the idea of keeping a diary of their twin pregnancy ups and downs. So why don't you get a head start in the game by purchasing your Pearhead My Pregnancy Journal? This is your timeless keepsake to cherish every moment of your unforgettable twin pregnancy. It also comes in a stylish and playful design with gold 'xoxo' patterns – what a nice touch!
And do you know what else women carrying twins like to plan ahead during their twin pregnancy first trimester? Their newborns' matching onesies. Here at TwinStuff we have taken all your preferences in mind and have created some fun and memorable designs with catchy slogans. Take a look at the Born First – Show Off Twin Onesie, for example. Not only that it's eye-catching and super cute, but also made from a breathable 100% cotton material.
To complete the package, why not also get matching bibs for when your angels grow up a little bit more? The Womb Mates Bibs by TwinStuff are a massive hit amongst moms and dads and are perfect for memorable photos with the whole family.
Twin Pregnancy First Trimester: Preparing For the Forthcoming Weeks
The twin pregnancy first trimester is somehow the most exciting, crucial, and painful period of your twin pregnancy. Why is that? Because each week of your pregnancy brings new symptoms to the horizon, all of which are more intense than during a singleton pregnancy.
Our comprehensive guide gives you honest advice on how to tackle the symptoms, what to expect and how to take ultimate care of yourself and your babies. The first trimester is also a fun time to plan ahead your angels' matching outfits with the Born First Twin Onesie and the Womb Mates Bibs. Happy first trimester!