Bringing up twins can be quite an exhausting and expensive luxury for most parents. From tandem feeding, thinking on twin registry must-haves, to changing double the nappies at least 10 times a day and trying to put your babies to sleep for hours is not exactly how you imagined your dream parenthood.
But thankfully, you don't have to do it all on your own. Specialized twins baby gear is your best friend and time, savior. You will end up getting a double stroller the size of a wheelchair, a twin baby carrier that makes you look like a deformed kangaroo, and a convertible pack n' play crib that has everything you need in one place. Although these items might seem ridiculous at first sight, they are essential for the sanity of twin moms.
And most importantly, they are your twin registry must-haves. As we said, you don't have to do it all on your own, and once you know what your twin registry is going to look like you can delegate the shopping duties to your loved ones.
So what will your twin registry must-haves be?
1. Double the Basics
Similar to a singleton baby registry, you will need to make sure that all the essential items are included, only double the quantity. The basics include diapers, milk bottles, pacifiers, you name it.
What you need to remember here is that you need to have some sort of a system to be able to differentiate which items belong to which baby. Perhaps you can color-code them or purchase different brands of each item to make sure no one is upset.
2. Diaper Subscription
Speaking of diapers, one thing your friends and family can definitely help you with is purchasing you a diaper subscription from Amazon, for example. The Pampers Baby Diapers are your go-to when it comes to top nappies quality. With 198 diapers you will be stocked up for a month, and with a recurring subscription, you will be sure to never run out, because that's the last thing you want when looking after twins.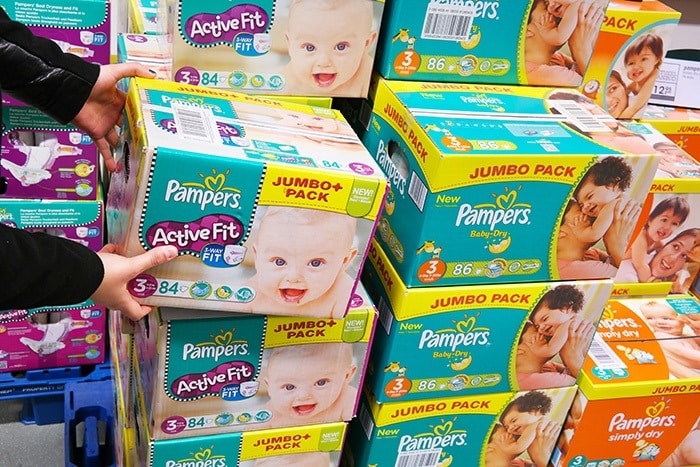 The Pampers Diapers come in different sizes to accommodate every baby, and the breathe-free Liner helps soothe and protect the baby's skin. What more can you ask for?
3. Double Stroller
Daydreaming about a calm stroll in the park with your twins on a sunny day? That's possible with the help of a high-quality durable double stroller that can fit both your babies and your essential baby gear.
We recommend you the Graco Ready2Grow LX Stroller because it grows together with your twins and you don't have to invest in multiple strollers each year. This is one of the smartest double stroller designs on the market, whose main purpose is to give your little ones a smooth ride.
With 12 riding options available it is there to support your babies from infant to youth in good and bad times. The Graco Ready2Grow LX Stroller features two lockable front-swivel wheels with suspension, to give you exceptional maneuverability so that you can take turns with ease.
4. Twin Baby Carrier
There will definitely be times when you don't want to be pushing around your babies in a stroller. In that case, a twin carrier is what needs to go on your twin registry.
The TwinGo Original Baby Carrier is exactly what you need. Although there aren't that many softshell twin baby carrier options available, the one by TwinGo is perfect for tandem carrying, because it has the sturdiness and durability to carry not just one, but two babies.
You can either tandem carry one baby at the front and the other one at the back which allows for weight distribution, or you can separate them and carry both babies individually if you wish. That will make both mum and dad happy and you will have some one-to-one time with your little ones.
The Twin Baby Carrier by TwinGo also features an ergonomic design to support the child's developing hips and spine, as well as, adjustable shoulder straps, a zipper pouch, and a hood on each carrier, which provides extra head support and privacy.
5. Car Seat
Another essential item for your twin baby registry is a car seat for those short trips to the supermarket or visits to your parents' house.
The Chicco KeyFit 30 Infant Car Seat in Orion is a great economy option that is not only super affordable but also a top-quality product. In fact, it was voted Consumer Reports top infant seat for 2014 and it is also a hospital favorite because it offers great support for infants and preemies (prematurely born babies). The removable newborn head and side-impact protection make it incredibly comfy for your newborns.
Moreover, this car seat is compatible with most strollers on the market, which makes it great for travel. You could also pay the extra $100 [each] and get one of the Euro seats if needed.
6. High Chairs
Are you worried that you will have no space left in your home amidst all the double baby gear? While this is a definite possibility, you can easily save space (and money!) by getting compactable baby gear instead.
A high chair is one of the twin registry must-haves that you can't go without. Once your precious babies are able to sit upright and start eating baby food, not just milk, you will want to place them in their high chairs where all the mess will be compacted in one place.
The best one for that is the Graco Slim Snacker High Chair. This ultra-slim space saver high chair is designed to fit in compact spaces for easy storage and it folds at just a moment's notice. You can easily store it in the pantry or closet in between meals.
Moreover, the easy-clean seat pad allows you to keep your twin baby's space tidy with minimum effort. It also features a mesh storage basket, where you can keep your babies' essentials at your fingertips during meals and snacks.
7. Matching Outfits
What is the life of parenthood without some fun? While you have your two little mischiefs at hand you might want to make your life as exciting as possible.
Matching clothes is the arena in which most parents find their outlet for entertainment. It's unbelievable how fun and creative twins' matching onesies can be. Take a look at the Miracle Onesies by TwinStuff, whose slogan reads: "Sometimes when you wish for a miracle – You get two".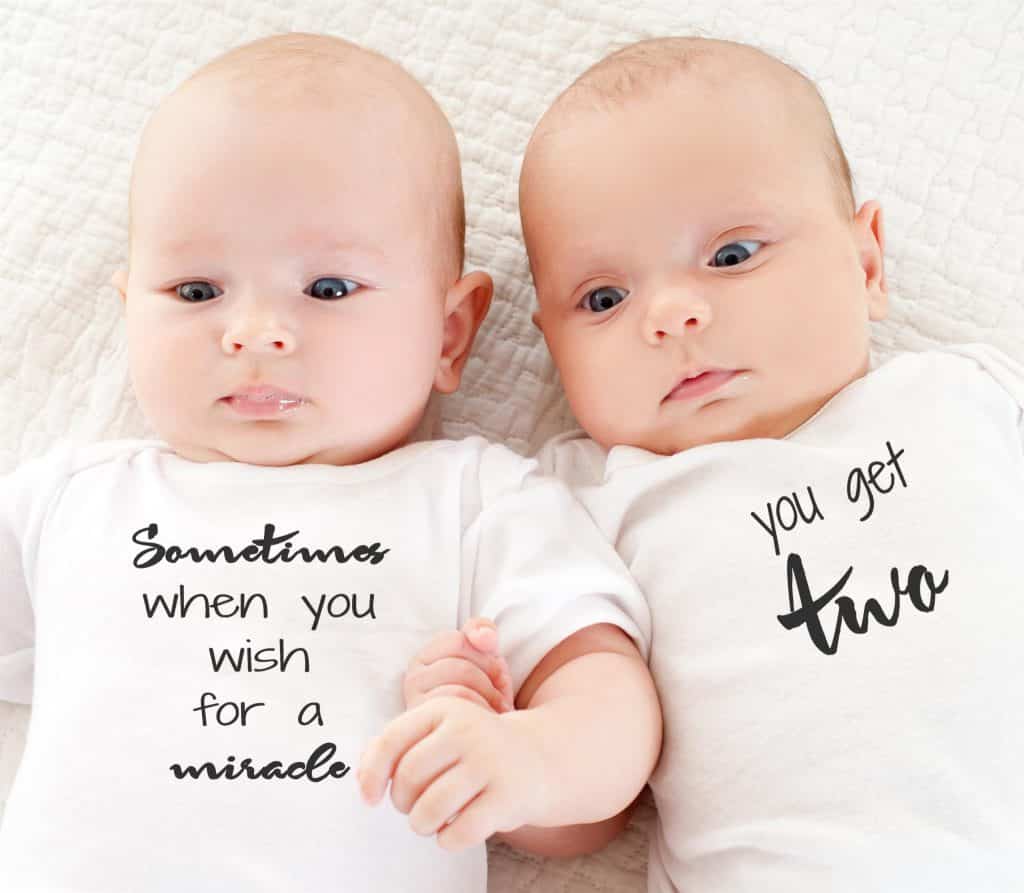 And what about matching bibs to go with the Graco Slim Snacker High Chair? We recommend you the Drinking Buddies Bibs by TwinStuff that will just shine a bright light to your day and make your twins' life easier.
8. Drying Rack
A drying rack might not be essential, but it's definitely something worth putting on your twin registry.
You might be wondering, can I not use my regular drying rack for dishes? Although you are totally free to use that, you might want to separate your babies' food gear from the rest, in order to keep it as sterilized as possible.
The Boon Drying Rack is perfect for this. The lawn design makes it super cute and the flexible grass blades can hold baby accessories of all shapes and sizes. The excess water is collected in the bottom tray, which can be removed and cleaned up easily. Plus, it is made without BPA, Phthalate, and PVC.
Twin Registry Must-Haves: What to Include?
Your baby registry is your chance to let your loved ones know what essential baby gear you will need for your baby twins. Obtaining as many items as possible before your twins are born is definitely a good tactic. But how do you know what twin registry must-haves to include?
Our list of 8 twin registry items you can't live without will help you make that decision quicker. From diaper subscription and Miracle Matching Onesies to high chairs and car seats – you can have it all! It's time to plan ahead your twin parenthood and double-up on the baby gear!