The cheerful splashy water bathtub experience at the end of the day is definitely your twins' favorite activity. But it can be quite hard for a new mom and dad to figure out the logistics of bathing your babies at the same time.
Do you start bathing them at the same time since they're infants, or do you go for the assembly line style bath routine? What are the essential baby bath items you can't live without and how to find the best twins bathtub?
Ideally, a good twins bathtub should be comfy, convenient and fun, so that you can take your babies out of the tub and put them straight into their Best Friends Matching Onesies by TwinStuff. That way you've done your best job as a mom and dad of two.
All of your burning questions about twins' bathtubs and many more are covered in this article, so read on!
Can I Use a Singleton Baby Bath Tub for My Newborn Twins?
Definitely yes! You should not feel obliged to buy double the gear just because you have two babies. Think about it, you are already spending a lot on two twins' cribs, twins' pushchairs, and extra-double the clothes, the bottles, the bath toys, etc.
Instead, you can totally make it work with a singleton good-quality baby bathtub if saving money and space is something you care about.
We recommend you to go for a simple design bathtub that wouldn't cost you a fortune but would still do a great job. Let us tell you a little secret: it's not about the actual bathtub design, rather the newborn sling comforts and the convenience of placing the bathtub wherever you wish.
The bathtub that ticks all those boxes and is considered on the cheaper side is the First Years Sure Comfort Deluxe Newborn to Toddler Tub. It comes in colors of teal and pink, so you can match it with the gender of your twins.
What makes this perfect twins bathtub so great is that it accommodates the growth and needs of your babies through three stages. When they're still infants, place them carefully on the hammock-style newborn sling and spend some one-to-one time with each of the twins while taking care of their cleanliness.
Once your babies are around 3-6 months old simply remove the newborn sling and place the babies in the deep ergonomic design tub with a pump built into the baby side of the tub to keep those tiny bums from sliding down. Finally, your active toddlers can enjoy sitting upright in the tub on the toddler side while having plenty of room to play.
One thing you should know about this baby bathtub, however, is that it is quite big in size and it might not fit into your kitchen sink. But don't worry because you can still place it in your adult tub or on the floor.
And, of course, you can always buy two of the First Years Sure Comfort Deluxe Newborn to Toddler Tub if you have the space, budget, and extra pair of hands to assist you in simultaneous twin baths. If you are worried that your knees might start hurting, then you should get a bath kneeler for extra comfort and support. The Magicfun Bath Kneeler with Elbow Rest Pad Set is a great bath mat and elbow support option which comes with 6 toys and 4 storage compartments to ensure fun bath time.
Are Countertop/ Kitchen Sink Tubs a Good Option?
Many parents of twins decide to go for a more compact twins bathtub that they can put on the countertop, in the kitchen sink, or in the adult tub for a quicker and more efficient bath time.
Munchkin makes the incredibly comfy and secure Sit and Soak Baby Bath Tub in white. It features a padded foam backrest and a built-in support bump to keep your babies safe and provide extra support for your wiggly little twins.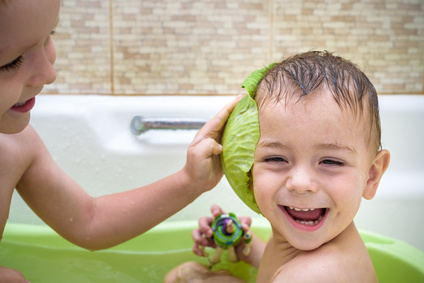 The reason why so many moms and dads love the Munchkin Sit and Soak Baby Bath Tub is that the design reminds your babies of their womb experience. The tight and secure structure, combined with the warm embrace of hot water caters for a lovely twins bathtub experience for your angels.
The only downside of the bucket-style baby bathtubs is that their design makes it harder for you to reach all of your babies' body parts and clean them properly, but that can easily be overcome by putting a little extra effort into your twins' bath routine.
Other Alternatives to the Traditional Twins Bathtub
Bath time is all about fun and games, so why not mix things a little bit by adding color and character to your twins' bathtub experience?
For example, you can gift your infants with the lotus adventure with the most unique alternative to a traditional baby bathtub – the Blooming Bath Lotus. Made from astonishingly soft material, the four petals of the lotus fit perfectly into any sink to lovingly hug your sweethearts into the best bath ever. Who said that babies can't have a top-notch spa experience?
Or you might want to incorporate the traditional child's bath time emblem – the duck, with the Munchkin White Hot Inflatable Duck Tub suitable for 6-24 months-old babies. It features a textured non-slippery bottom and a white safety disc that turns white when the water gets too hot. It's ideal for traveling because it's easily deflated and inflated, but most importantly, your twins will have a blast taking a bath in the Munchkin White Hot Inflatable Duck Tub.
What Is the Best Bath Tub Replacement for My Twins?
Did you know that you don't necessarily need a baby bathtub? This probably comes as a shock to you, but a lot of parents decide to go for a large laundry basket as a replacement for a store-bought bathtub.
So how do you do this? Simply add extra padding or use a newborn sling to make it nice and comfy. Fill the rest of the space with toys and enjoy your DIY twins' bathtub. Once your babies are a little bit older you can even put them on both sides of the laundry basket and have a joint bath time.

Twins Bathtub and Other Essentials
Bath time is the best part of the day for both you and your lovely twins. Choosing the right twins bathtub is where you have the most freedom and versatility when it comes to essential baby twins items.
Why? Because you can decide to either spend a little bit more and get a fancy bathtub for each of your babies or go super cheap and make your own DIY baby bathtub. It's totally up to you. Once you know which option suits you best you can enjoy some one-to-one bath time with your twins paired with their favorite bath toys.