Dining with twins can be a lot to handle. Having functional and helpful dining essentials for your babies can make eating easier for everyone. Twins high chair, booster seats, bibs and other necessities are ideal to have on your twin baby gift registry. What dining fundamentals are the best to have for you and your twin babies? TwinStuff has put together the most stylish high chairs, along with the best items to have for eating in or dining out.
Most Stylish High Chairs
This Graco high chair features a 5-point harness to keep each of your twin babies safe while eating. Simply strap each twin in their own highchair with the safety harness that is removable from the machine washable seat pad. Parents of twins love how compact the baby high chair is within their dining room. When not in use, simply fold up the twin highchairs and slide them discreetly away under a cabinet or in a closet.
Ingenuity SmartClean Trio Elite 3-in-1 High Chair
Parents who were eyeing the Antilop high chair typically prefer to have the Ingenuity SmartClean as their go-to registry babylist high chair for their twin babies. Unlike the IKEA toddler high chair, the Ingenuity grows with your twin babies. Some of the IKEA high chairs do not have the flexibility of adapting to your twin babies as they become toddlers. Ingenuity highchairs convert from baby chair status to booster seat and on up to toddler seat. Each chair can hold babies as early as 6 months of age and has a weight limit of 50lbs.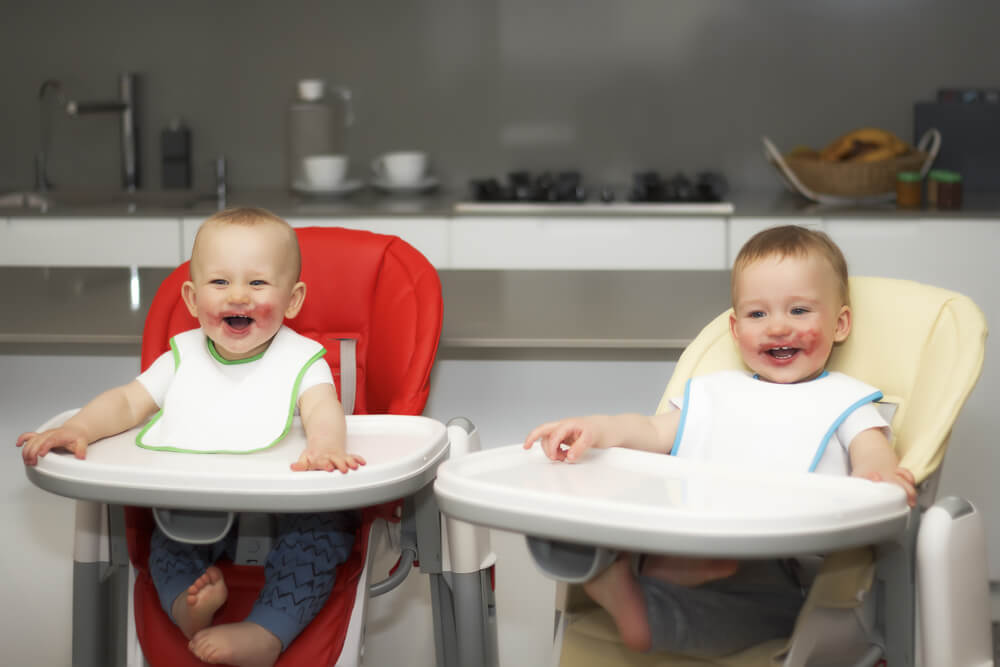 Baby Trend Sit Right High Chair
Amazon affiliate links highlight the Baby Trend High Chair as being an Amazon Choice. Compared to a wooden high chair IKEA features, we highlight that the removable serving tray is dishwasher safe and makes it easier to clean after your twins are done eating. The three-point safety harness keeps your twins safe as they eat. Each chair holds up to 40 pounds and has three possible seating positions to comfortably seat your twin babies. To accommodate a variety of size dining tables, the Baby Trend has six possible height positions to make it easier to feed your twins.
Booster Seats for Your Twin Babies
Prince Lionheart Squish Booster Seat
When dining out, it is not always a possibility that restaurants will have seats to accommodate your twins who are able to sit up independently. This seat is ideal for ages 18 months and up to 5 years of age. The three-point safety harness keeps your twins sitting comfortably within the booster seat. The Prince Lionheart seat has an extra spring in the cushion, making it comfortable for your twins to sit on while eating with the family. The lightweight booster seat makes it easy to transfer from home to restaurants.
OXO Tot Perch Booster Seat with Straps
If looking for another booster seat to have on your twin baby gift registry, check out the OXO Tot Perch Booster seat. It is made for 15 months of age and can grow with your twin toddlers for up to 70 pounds. It easily folds up and is compact, which gives you more flexibility to travel with and set up at almost any location. Storage is easy with the seat folding up and into the cushion to take up the least amount of room.
Summer Sit 'n Style Compact Folding Booster Seat
Another great booster seat is made by Summer Sit 'n Style. The clever function of the seat provides another option to take when going out to eat. Whether visiting friends or family, the booster seat simply folds up and pops back up onto almost dining room seat. The tray can easily be removed, allowing your toddler twins to dine at the same table as everyone else.

Machine Washable: Easy to Clean Bibs
Not only do we provide insightful blogs on twins, but we also create clever and unique 100% organic cotton bibs and onesies for your twin babies. Durable snaps make it easier to snap on and off your twin babies. The soft cotton is gentle against your twins' skin. Made without harsh chemicals or dyes, you can rest easy knowing that your babies are wearing high-quality bibs to catch any dribble or drool that may be coming from your babies. The bibs are machine washable, allowing you to care less about cleaning and focus more on spending time with your precious babies.
Silicone Baby Bibs for Babies & Toddlers
As your babies grow, they experience an array of food which can lead to more messes to clean. Protect your twin babies, and their clothes, with silicone bibs. These bibs are ideal for ages 10 months and up to 5 years of age. Adjustable snaps allow for a precise fit around the neck of your twin babies. This means they will be comfortable wearing the waterproof bibs, and you will feel better as they learn how to eat independently.
Hudson Baby Unisex Baby Cotton Terry Drooler Bibs
Celebrating the holidays does not mean that your twins have to wear bland bibs. Terry cotton bibs by Hudson Baby covers the majority of holidays throughout the year. The embroidery is carefully crafted to highlight your twin babies' first holiday festivities. Each holiday bib has a hook and loop closure and is machine washable. Family and friends will love seeing these on your twin baby gift registry.
We Have More Information About Twins High Chair
There are plenty of twins high chairs, booster seats and bibs to choose from for your twin baby gift registry. Having these items highlighted for your upcoming twin baby shower eliminates the questions that you may have when shopping around. That is why TwinStuff is here. We are here for you and your many twin milestones you will experience for the months to come. Join our TwinStuff Facebook Group for online support from other twin parents who provide additional support with positivity and shared experiences. From nap times to dinner times, TwinStuff is here for you and your growing family.