If someone said the name StitchFix, would you know what they were referring to? Several years ago my answer would have been no. StitchFix is an online styling service where, for as little as $20 (that applies towards your order), you are paired with a personal stylist who chooses 5 items to mail straight to your front door.
If you've never pulled the trigger with StitchFix or are currently on the fence about their service, read on to hear about my first experience. No hype. No fudging the truth. Just my experience, what I received, and my honest Stitch Fix review.
This is not a Sponsored Post, however, it does contain affiliate links. This means if you click on the link and decide to sign up we will receive a small commission (at no extra cost to you). This helps us to continue providing this resource for the twin parenting community.
Stitch Fix Review: How I Got Started
After they told me it was twins I knew my life would forever be different, sure. But did I really even know what that meant? Like most new moms, no. I knew I would be tired, but honestly, I didn't know what newborn baby tired was. I knew I would have little time to myself, but again… I didn't truly know the extent of how little time I would have.
To add to all of this newness of two new babies, my body had also changed throughout my twin pregnancy and all I was left with was a few pieces of clothes from pre-pregnancy and my maternity clothes. Life with one newborn baby is hard to let alone life with two new babies, so sitting on the fence between fitting into pre-pregnancy clothes and maternity clothes starts to wear on you after so long.
I was exhausted. It seemed like I always had at least one baby crying, somebody needing a diaper change or another that was hungry. Then there was the fact that I had pretty much determined I was just going to have to live the next five years of my life within the walls of my house because mustering up the ability to get two babies in car seats out my front door and out in public was just too much to wrap my head around. Remember that part about somebody always crying, hungry or needing a diaper change? Yeah. It was a lot to wrap my head around.
Fast forward a little bit and I finally got tired of being stuck at home. I was tired of fitting my new body into clothes I didn't feel comfortable in. So slowly day by day I figured out how to get those two babies out and about. I wasn't going to live my life trapped at home.
But one thing; I had my sneaky ways of making it through Target without all the people noticing and questioning whether I had twins, but I couldn't have one baby strapped to my back if I was going to try on clothes. Enter StitchFix.
First Steps
For all of us who want to dress like we have our lives together, StitchFix is perfect. New clothes paired with never really having to leave the house? Yes, please!! If we don't like something just send it back? OK, sign me up!
I was a little skeptical though, still. How could someone really pick out anything that would fit me (I am tall, like 5'10" tall, so finding things long enough can sometimes be a challenge.) They have a great system though. Once you create an account they ask you several questions to figure out your sizing, style, likes and dislikes so you're more likely to get pieces you'll love verses send back.
Do you dress more casual or dressy?
Do you like to show off shoulders? Mid-section? Legs?
Is your style more classical? More edgy?
etc.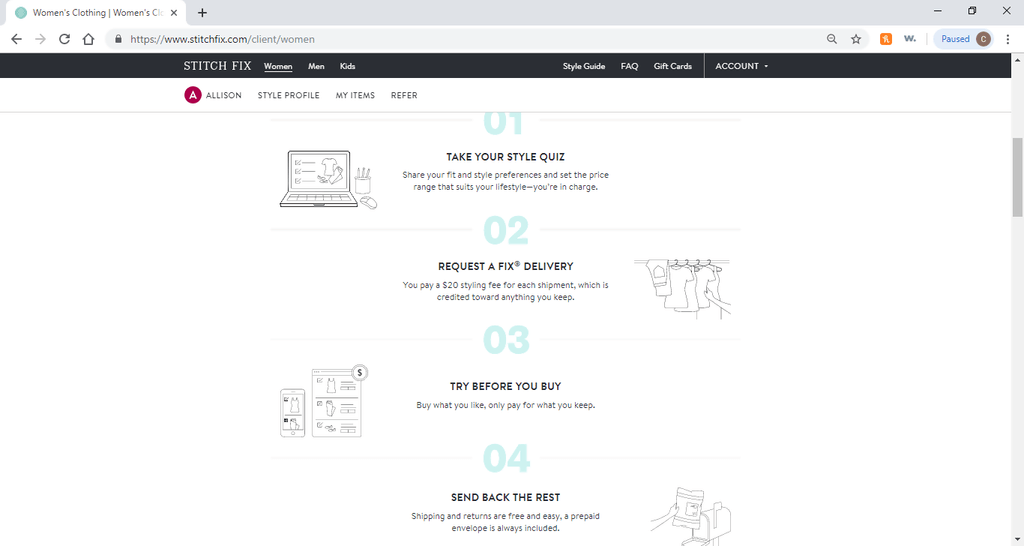 They also have the option to take mini quizzes where they show you different outfits and you can give it a thumbs-up or thumbs-down to help your stylist get a feel for things you tend to pick out for yourself. I pretty much took these until they told me, OK that's enough for today.
From there you are placed with a stylist who picks 5 pieces to match your style and then boxed up and shipped directly to you. And then everyone said Amen!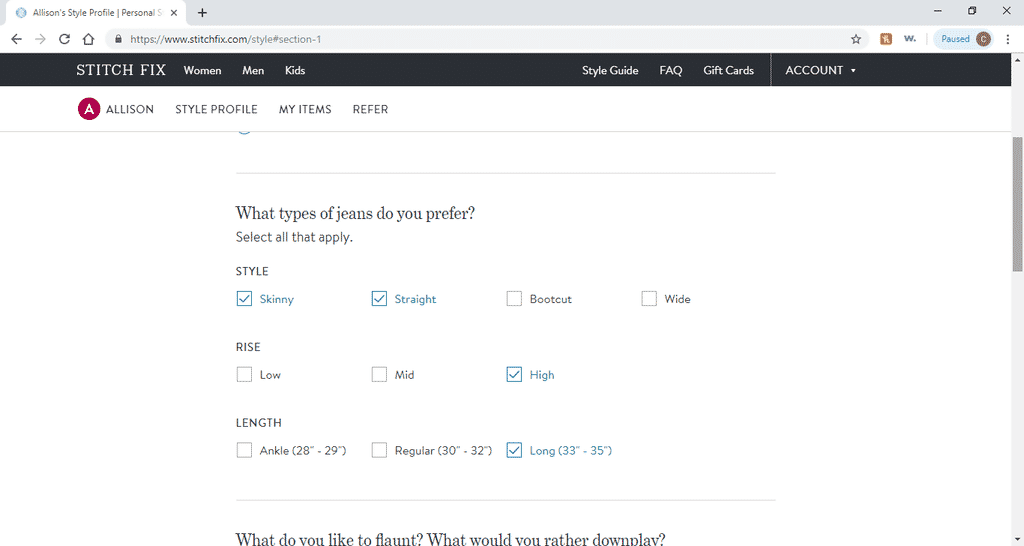 To get started you pay a $20 styling fee which is credited to your purchase or if you choose to purchase all 5 items, StitchFix will you give you 25% off the total price as well as apply your $20 styling fee to your purchase. There is no obligation to purchase all 5 items, but obviously, you get the best deal when you purchase all 5.
My Fix
Opening my first box was exciting. Kinda like Christmas… except at the end of all this I was going to be paying for my own presents.
I peeled back the beautifully folded paper that encompassed my 5 items and slowly opened up each article of clothing. I was so excited to see what they had picked out for me. Ok… I like it… good… ehhh maybe not so much….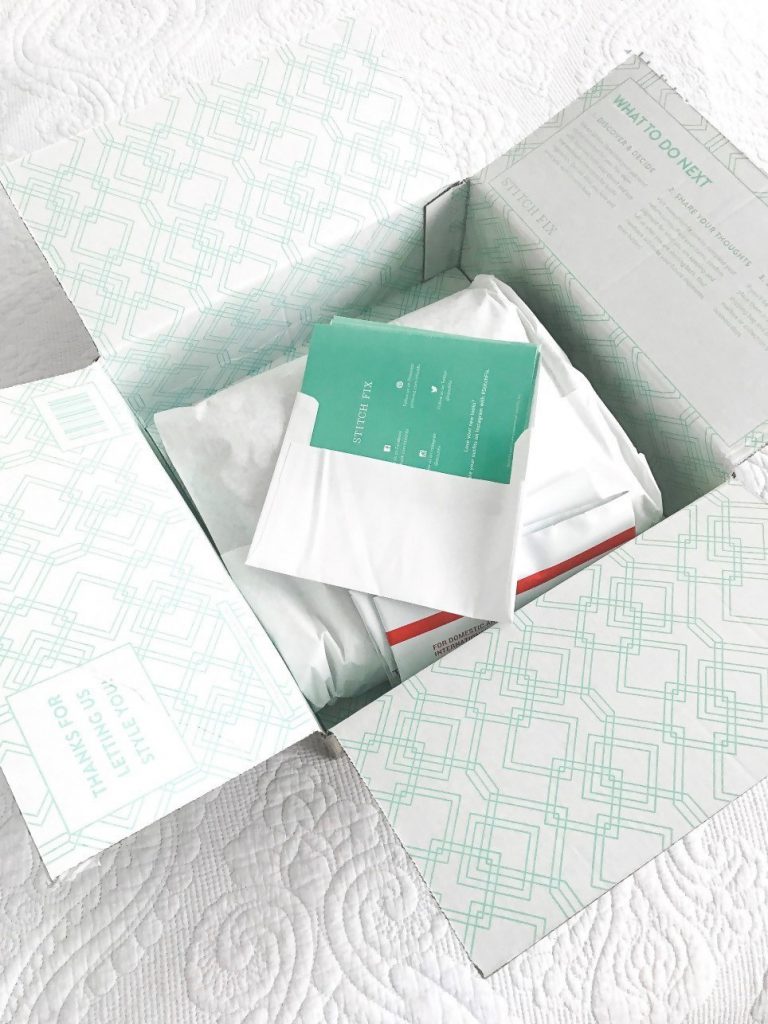 Honestly, I think one of my favorite features of the StitchFix service is the style card sent with each order. If I'm being completely honest, I don't see myself as super stylish. I see others with these put-together outfits and think, wow, as I stare down at my shorts and black T-shirt. So this little extra feature was like sprinkles on my cupcake. The style card lists each article of clothing they send along with images of how to style each piece to get 2 different looks. Boom! Exactly what I needed. Spell it out for me!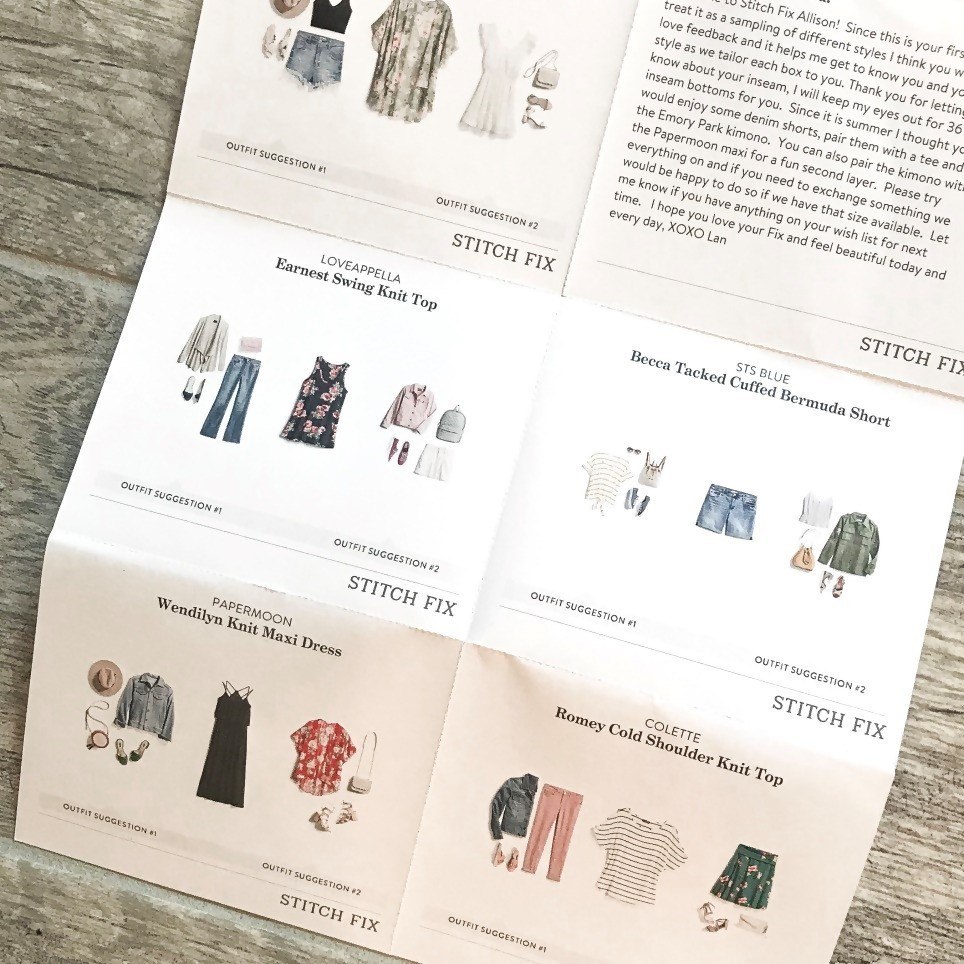 The Clothes
Like I said, I'm tall, so finding the right clothing for me can be difficult. I told my stylist I am 5'10 and wear a 36" inseam to hopefully help when she was selecting items for me, but evidently 5'10 didn't really resonate, because, well, just keep reading…
The first item I received was a floral Kimono.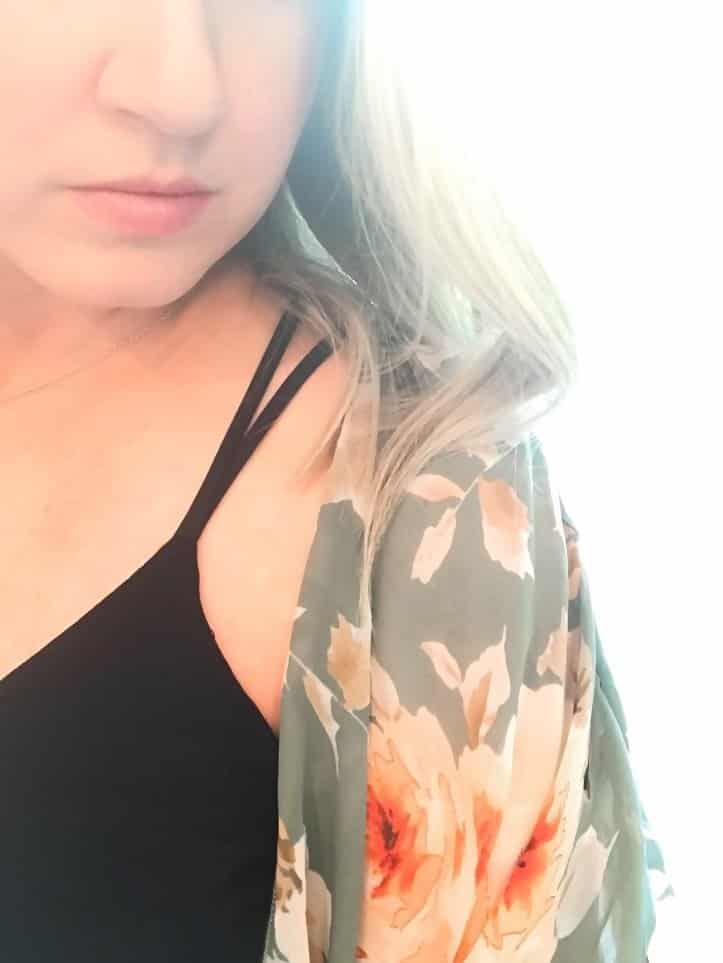 I was on the fence with this one for a few reasons. 1. I have a few kimono's hanging in my closet already and 2. The colors are very muted which doesn't really compliment my fair skin and blonde hair. I tried it on anyway, and as much as my daughter told me I looked beautiful, I decided to send it back.
Next was this floral tank.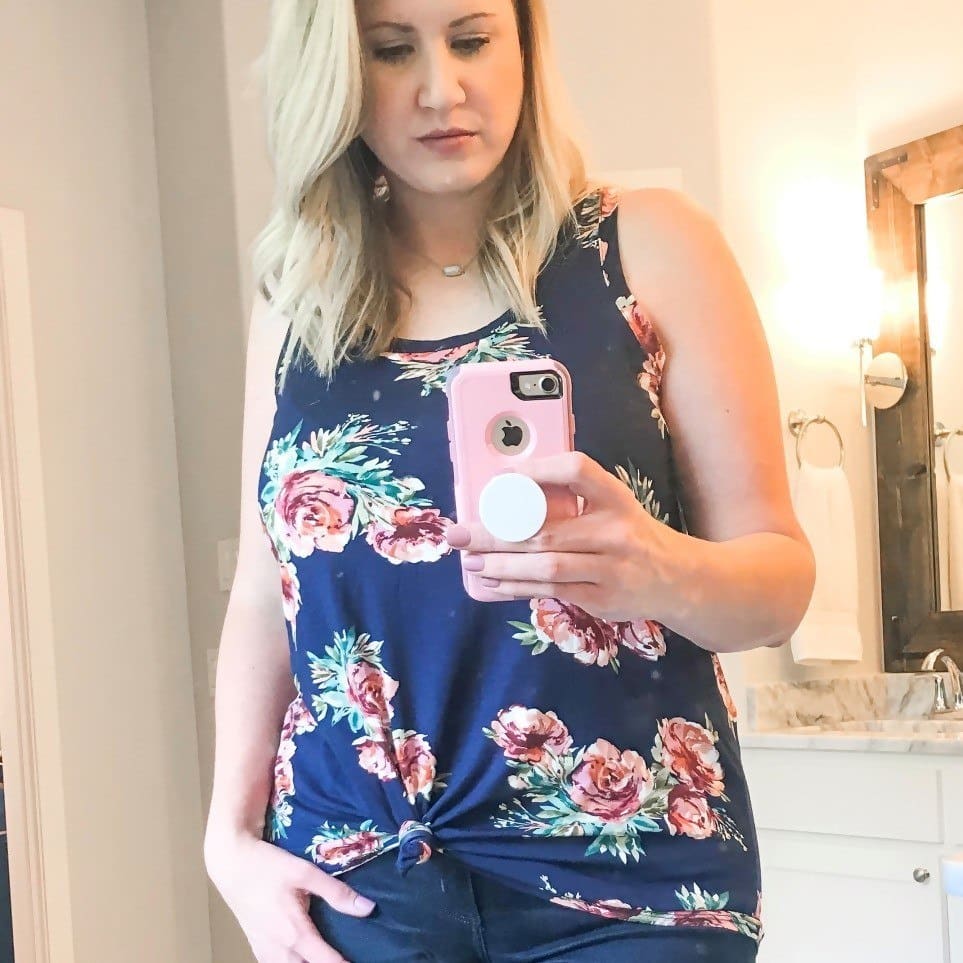 At first glance, I loved the pattern of this tank. It was made from a nice slinky material that felt very expensive. I slipped it on and, well, felt a little frumpy, so I tied it up in the front and knotted it to help give some shape. So much better, but again, I felt like I had so many tops similar to this so, even though my daughter said this was the prettiest top she'd ever seen, I decided to send it back.
And can we talk about that dirty mirror? Remember that part about having twins… yeah, dirty mirrors are a thing around here. My super power is making two babies at the same time, not cleaning mirrors.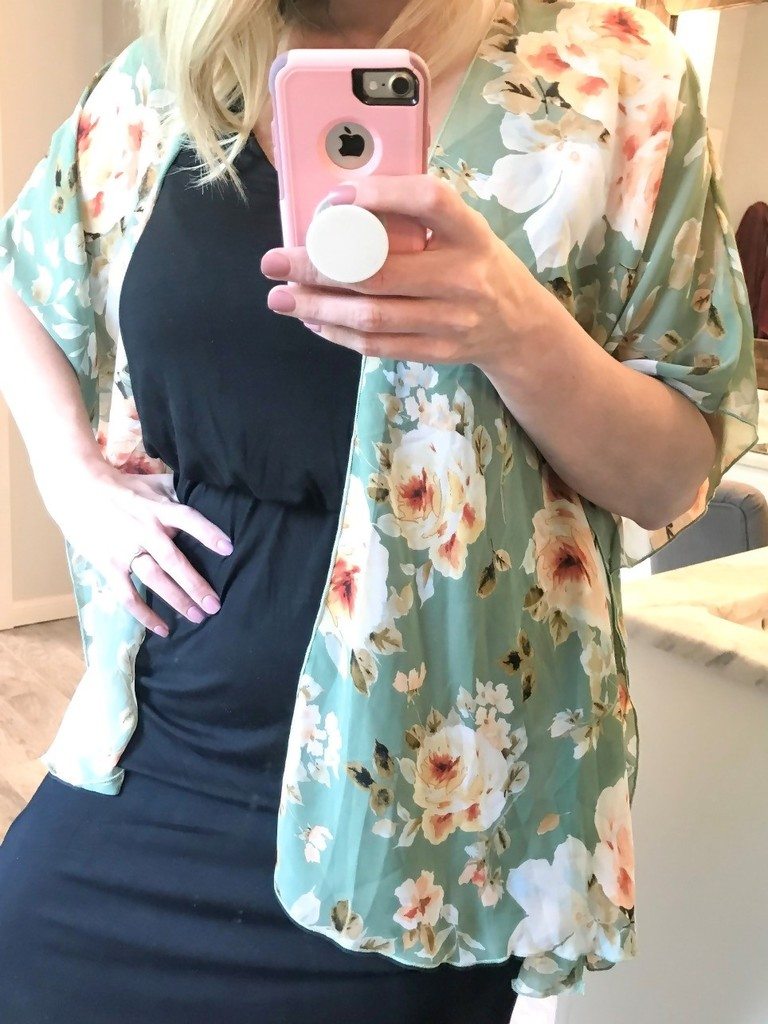 Oh, I wanted to love this so much. The double-strap detail in the straps. The gathered waist. Pair it with a jean jacket and some sandals. Dreamy! I loved everything about this… but my fear, like every tall girl out there, would it be long enough? The answer is no. No it wasn't.
Now, I could have knotted the front of the dress, which I often do and love, but I didn't want to be cornered into only being able to wear this if it was knotted so it also had to go in the return pile. Plus, paying $55 for a dress that didn't fit just right and I would have to alter with a knot in the front every time I wanted to wear it? No, thanks.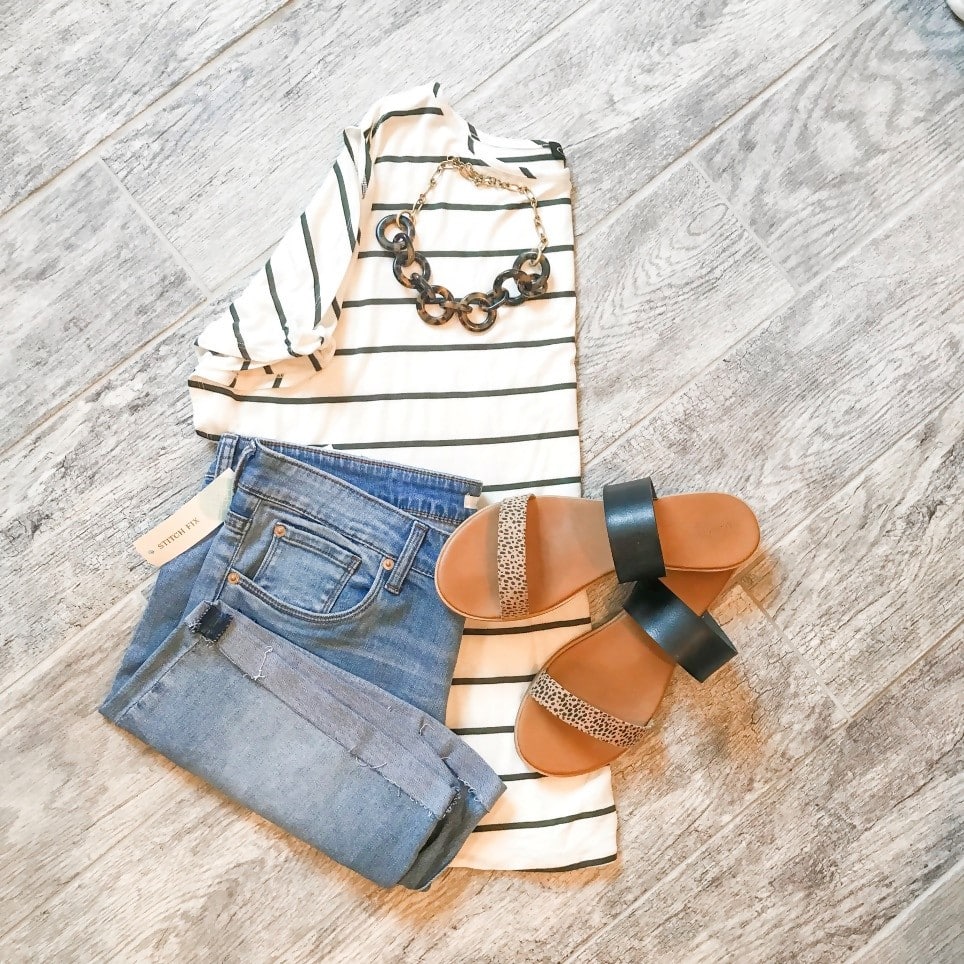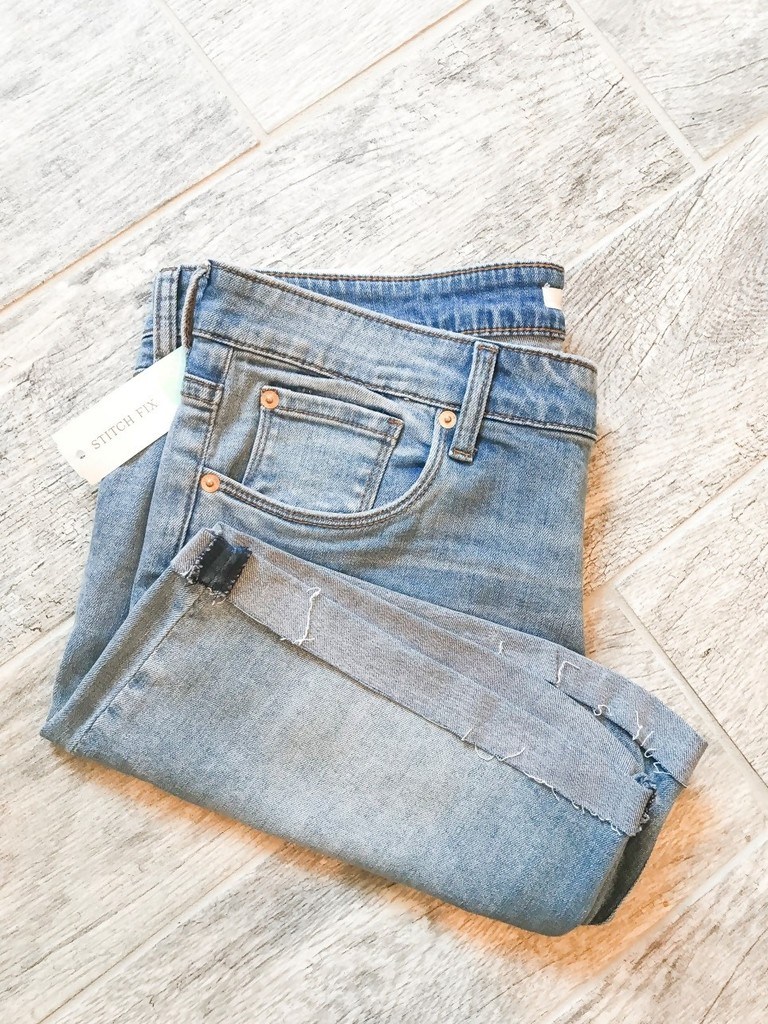 I know why my stylist probably picked out Bermuda shorts for me. I'm tall. You would think that goes hand in hand. I get it. But this just wasn't my style. I tried to give them a shot but I just couldn't do it. I didn't want to pay $40 for something I knew would just sit in my closet untouched. If they hadn't been a Bermuda short I probably would have kept them. The material was nice and I loved the color.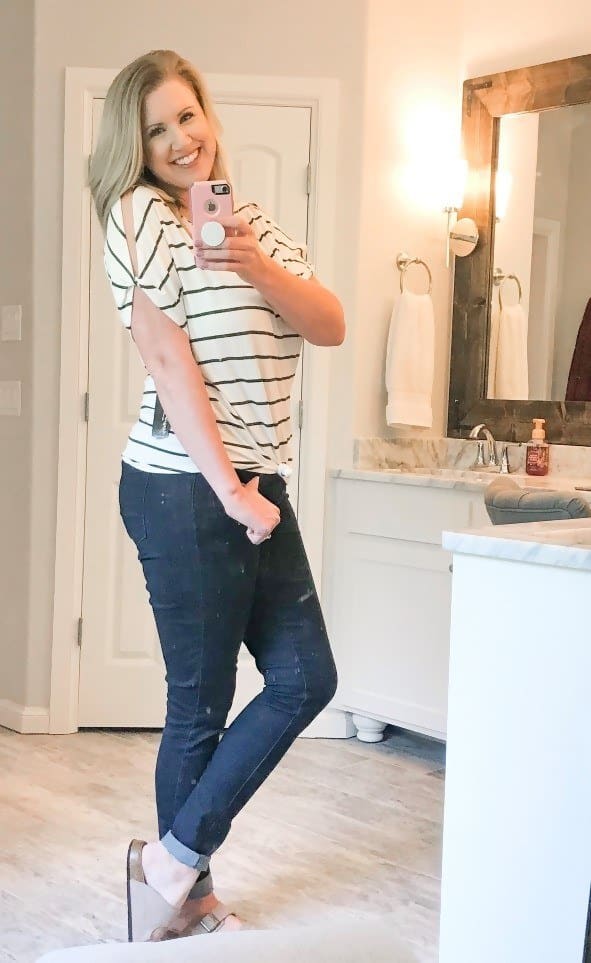 Now this had potential. I am a sucker for black and white and then stripes, ugh, they get me every time.
When I first pulled this out of the box I thought it would love it. My style card suggested pairing it with some rose colored skinny crops and a jean jacket or even with a floral print skirt to mix prints. Both ideas I loved! But then I tried it on and noticed the cold shoulder and I was turned off. I have never been able to get into the cold shoulder trend, so this automatically was out for me.
Sending Things Back
If I'm being completely honest, I liked a few of the items, loved the black dress even, but ultimately sent all 5 items back. A few were not quite in the price point I wanted to pay, the dress was too short and others I already owned so this fix wasn't exactly hitting the mark.
StitchFix makes returning items really easy though which makes signing up for a second fix a no brainer.
In your box they include a prepaid envelope so all you have to do is insert your return items and drop off at your local USPS.
The last step when returning items is to go online to your account within 3 days of receiving your fix and tell them what items you loved or would like to return as well as why you didn't like certain items. This is important because it helps your stylist understand more of your likes/dislikes for your next fix, should you decide to order a second fix.
Things I Learned from my Stitch Fix Review
I've heard linking one of your Pinterest boards is another way your stylist can truly get a feel for what you like and so moving forward I am going to link my boards and pin a few more items I would be interested in.
I am also not someone who spends a ton of money on my clothes. Remember that whole having twins thing? Yeah, a lot of my time is spent either at home with babies or getting spit up on by said babies so expensive clothes aren't really my jam. Paying $40 for a top isn't my thing unless I am just completely in love with it.
With that said, keep the pricing in mind if you're thinking about trying StitchFix. Maybe pricing doesn't bother you. Perfect. For reference, I also said I didn't want to spend a ton on each article of clothing and had I purchased all 5 pieces, with the 25% discount, my total would have been over $200.
I feel like there was potential with the style picks sent to me so I'm anxious to see whether my next fix is more of what I'm looking for. After this first one I went back into my account and gave good explanations as to why I was sending back each article of clothing and took a few more of the clothing quizzes on things I liked and disliked.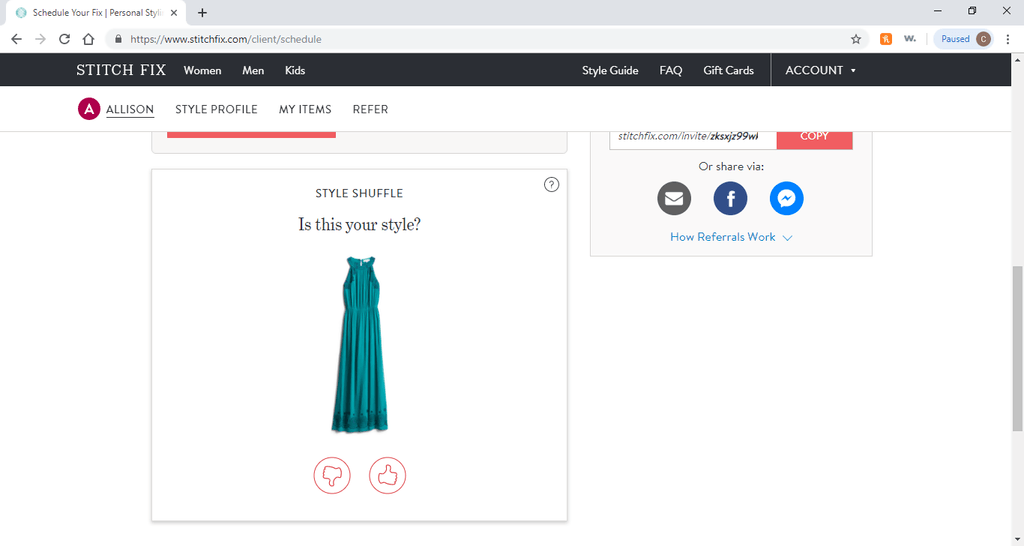 If you're like me, a mom of twins or multiples, have even just one kid, or aren't a mom at all but simply wear clothes; I would at least give StitchFix a try. The most it will cost you is $20 and you can send all 5 items back if you just aren't a fan or you might just fall in love with all 5 items and get to take advantage of the 25% off your total order which is a complete win!
Want to sign up after reading this Stitch Fix review? Simply click here.