19 weeks pregnant with twins!
In the next couple of weeks, you've got your mid pregnancy ultrasound coming up, and that's incredible, because that's both a marker of the middle of your pregnancy, and a time to make sure your babies are completely healthy, as well as find out their sexes, if you want to!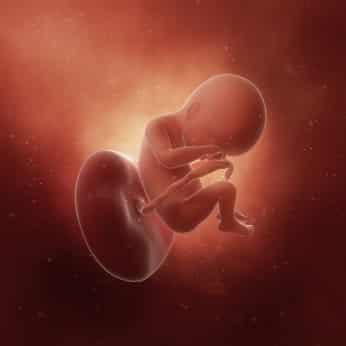 A single fetus at 19 weeks
See 18 weeks pregnant with twins
See 20 weeks pregnant with twins
Your Twin Babies at 19 Weeks Pregnant
Almost half a pound in weight, and six inches long, your babies are around the size of mangoes now. Considering how small they were just eight weeks ago, that sort of growth is incredible!
This week, there's two major events that your babies will be going through.
The first is the growth of the vernix caseosa, a protective skin coating that keeps your babies safe for the rest of their time in the womb. It's that white coating that you sometimes see on their skin when they're born, and it works sort of like an anti-wrinkle cream for your babies sensitive skin!
The other major thing? Your babies brains are activating the sensory nervous system, and linking up all of the parts of the brain that work with sight, smell, hearing and taste.
Twin Pregnancy Symptoms at 19 Weeks
The next few weeks worth of symptoms aren't debilitating, like they were in the first few weeks of pregnancy. Instead, they're mostly just annoyances that you have to face.
Expect them to get worse over time, though, so learning to deal with them now, whilst they're relatively minor, is a great choice.
19 Weeks Ultrasound Twins
You probably aren't having an ultrasound this week, because you've got the mid pregnancy scan coming up soon.
That's a biggie, and it's one where you'll find out how your babies are developing, how they measure up, and whether there's any cause for concern.
We'll go into this more, next week, so make sure you check back then.
Things to Do This Week for a Healthy Pregnancy
Worth Buying Now
Disclosure: These links are affiliate links meaning we earn a small commission for any qualifying purchases.
We asked the TwinStuff Community what their Must Have products were during the second Trimester:
Are You 19 Weeks Pregnant with Twins?
Next week is officially the halfway point. After next week, you can actually start counting down the weeks until your due date! Pretty soon, you'll even be counting down the days!
Make sure you check back in next week. We'll be learning about the importance of the mid pregnancy scan, which is more detailed than you could probably even imagine.
In the mean time, feel free to drop us a comment, if you've got any questions, or just want to chat about what you're going through. How do you feel at 19 weeks pregnant with twins?