22 weeks pregnant with twins can bring a big change. You're growing and showing so much faster now that it's almost crazy. But in terms of how you're feeling, it should be pretty good.
After all, you should be having your mid pregnancy scan soon, if you haven't already had it. Once you've hit that, you should have a fair idea about how your pregnancy is going to go, whether there's going to be any real issues during it, and finally, when you should be due!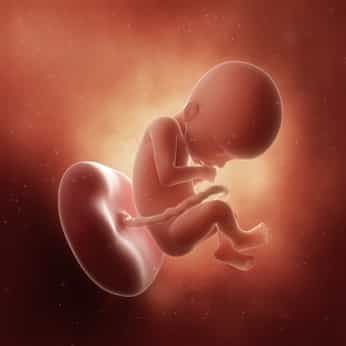 A single fetus at 22 weeks
See 21 weeks pregnant with twins
See 23 weeks pregnant with twins
Your Twin Babies at 22 Weeks Pregnant
At 22 weeks, normally babies hit a really important milestone. One pound in weight! That's crazy, especially considering just six weeks ago they were less than a quarter of that!
They're also getting bigger to go along with this weight. They're around eleven inches long now, or to put it another way, they're about the size of a coconut. They don't weigh quite that much yet, though. Instead, pick up a full bag of sugar. That's how heavy each one might be.
Of course, considering that you're carrying twins, expect them to both be a little bit smaller than this. But not by much! They'll hit this milestone soon enough, don't you worry.
This week, your little ones are working on their senses again, with the senses of sight and hearing getting much more powerful.
Whilst its fair to say that there's not much to see all comfortable in the womb, there's certainly a lot to hear, and your babies will be accompanied day and night by the sounds of your heart beating, blood pumping around your body, and your voice. So talk away!
Your babies will also be working on their grip strength, just in case you wanted a pair of little tiny strongmen when you pop. They've already been moving around in your womb, but right now, they'll be gripping at everything they can. Themselves, the walls around them. Even their umbilical cords.
Twin Pregnancy Symptoms at 22 Weeks
22 Weeks Ultrasound Twins
You might not believe it, but your babies already sleep as much as a newborn whilst they're in the womb.
You'll find they sleep in 12 to 14 hour cycles, so if you go for a scan and don't see any movement, they could just be sleepy.
Things to Do This Week for a Healthy Pregnancy
Worth Buying Now
Disclosure: These links are affiliate links meaning we earn a small commission for any qualifying purchases.
Let's talk basics. Here are a few of the must have newborn items:
We asked the TwinStuff Community what their Must Have products were during the second Trimester:
Are You 22 Weeks Pregnant with Twins?
The big day is getting closer and closer, ladies. Remember, if you've got any questions, or just need a chat and some reassurance, then drop us a comment. How do you feel at 22 weeks pregnant with twins?